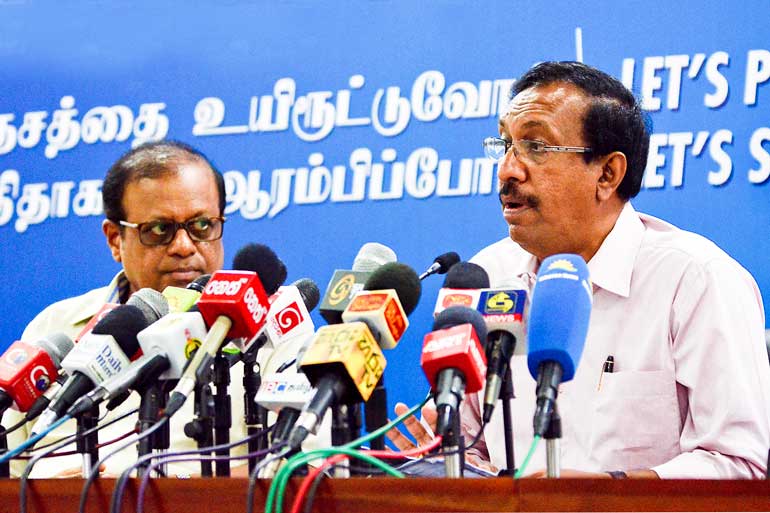 SLFP General Secretary Anura Priyadarshana Yapa and National Organiser Susil Premajayantha at the media briefing

– Pic by Shehan Gunasekara
By Chamodi Gunawardana

The Sri Lanka Freedom Party (SLFP) yesterday charged that the United National Party (UNP) hoped to convert all corporations into State-owned public limited companies via its manifesto.

Commenting on the UNP manifesto which was launched last week, SLFP General Secretary Anura Priyadarshana Yapa claimed that this this would be the first step in the UNP's moves to privatise State-Owned Enterprises (SOEs).

"The UNP has submitted some questionable proposals about SOEs via its manifesto. It is planning to convert all corporations into State-owned limited entities. If this happens, those limited companies will join the stock market and other private companies can purchase shares in them, which will in turn convert these SOEs into private companies," Yapa explained.

Addressing the media, SLFP National Organiser Susil Premajayantha expressed confidence in a UPFA victory, stating that once the party won the election, it expected to extract gas from the Mannar Basin at commercial level.

"We expect to provide a gas cooker and a gas cylinder to each and every Samurdhi family and we will pay an allowance of Rs. 350 for the usage. We hope to attach it to our proposed Mannar gas project after three-and-a-half years, by which time the gas obtained from the Mannar Basin will fulfil the gas requirement of Samurdhi families," Premajayantha stated.

He added that the UPFA expected to promote online jobs among youngsters by providing a broadband connection for every household.

"We will conduct some training programs for the youth on how to do an online job. We will obtain take private sector support to do so. We have estimated that this method will result in 1,000,000 job opportunities within three years," SLFP National Organiser said.
UNFGG MOU highlights lack of trust, charges Susil
SLFP National Organiser Susil Premajayantha claimed that the recently-signed MOU between National Movement for Social Justice Leader Maduluwawe Sobitha Thero and Prime Minister Ranil Wickremesinghe had highlighted the lack of trust between the two parties.

"Wickremesinghe and Sobitha Thero singed an MOU on behalf of the United National Front for Good Governance (UNFGG) and some 110 civil society organisations. Normally MOUs are used to ensure trustworthiness between two parties which don't have real faith in each other. This recently-signed MOU shows that the UNFGG and Sobitha Thero don't really trust each other," Premajayantha asserted.
UPFA Government will restart all suspended projects within a week: Susil Premajayantha
The General Secretary of the United People's Freedom Alliance (UPFA) said a UPFA Government would restart all the projects suspended by the current Government and reinstate the employees who had lost their jobs due to suspension.

Addressing a media conference yesterday, Premajayantha said they would restart all small, medium and major development projects in the first week of coming to power and reinstate all 70,000 unemployed workers, who worked in those projects.

He said all the damages done by the United National Party (UNP) Government would be reversed within two weeks of forming a UPFA Government before they could take action to implement the party's development program outlined in the manifesto.

Premajayantha further said that the United National Front had to sign a Memorandum of Understanding with civil organisations due to a lack of trust.

He noted that a similar agreement was signed before the presidential election but most of the promises made in that agreement were not fulfilled.