Text and Pic by P.D. De Silva

The UNP's Mayday rally is dedicated to the committed workforce of the country this year as it is they who can pull the country out of the debt trap it is in at present, said UNP's General Secretary and Minister of Public Enterprise Development Kabir Hashim, addressing the media at the party's coordinating office in Matara last afternoon.

The UNP rally will be held at Campbell Park and is scheduled to start at 2 p.m. The Mayday procession will start at 11 a.m. opposite the B.G.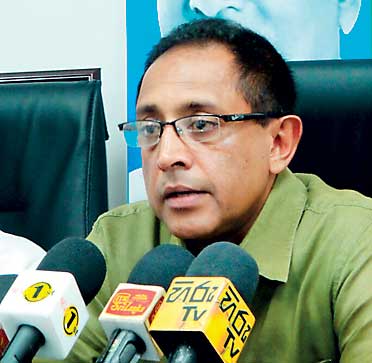 Sirisena Public Playground.

The UNP General Secretary was in Matara to discuss the party's progress with the UNP Organisers of Matara District. Foreign Affairs Minister Mangala Samaraweera who celebrated his 60th birthday yesterday and Matara District Development Council Co-Chairman and MP Buddhika Pathirana were present at the media briefing.

"This is the first May Day rally that the new Government will be holding after being elected on 17 August last year. There are many people including our Leader Ranil Wickremesinghe who have made sacrifices for the party and the country. It is a committed workforce that we need to pull this country out of the debt trap it is in and bring Sri Lanka back to where it should be. That's why our first May Day rally will be dedicated to the people with commitment," he elaborated

"When former President Mahinda Rajapaksa was elected in 2005, the per capita debt was Rs. 110,000 and the country's foreign debt was $ 21 billion, but at the end of his tenure in 2015 the per capita debt was Rs. 452,000 and the foreign debt $ 44 billion.

"In the short time we have been in office we have been able to establish an environment in which people can work with dignity, increased the salaries of Government sector employees and requested that the public sector provide a minimum wage increase of Rs. 2,500. That is how we showed our appreciation to the dedication and commitment of our national workforce," he added. "It is because of the commitment of the leaders and people that countries like Singapore and Korea are economically stable today."