General Secretary of the United National Party and Kegalle District Leader, Kabir Hashim, submitted his nomination papers last morning.

Speaking to the media, Hashim stated that the UNP would conduct an election campaign that would not inconvenience the public but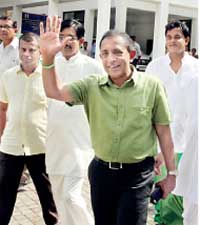 would instead target the grass-root level. He added that unlike previous elections, the UNP would not abuse State resources during their campaign.

He further said that his campaign would focus on educating the public on his plans to develop Kegalle and ensure that the UNP emerges victorious in the district, and the country as a whole.