Stressing the importance of continuing the national government formed between the country's two major political parties, Prime Minister Ranil Wickremesinghe yesterday said such a governance structure was needed to ensure economic growth in the country.

Participating in the ceremony to lay the foundation stone for the Viyathpura Green Professional City in Pannipitiya, he said the development projects being implemented by the State were not meant to gain a political advantage.

"It is a difficult task for two political parties to work together. It is the same when it comes to implementing a development project because you will not know where you end up if something goes wrong. However, we need to work together for the sake of the country," the Premier said.

Urging everyone to work together, he said that the decision to work together was taken as both political parties saw the need for major development programs to provide a better future, especially for those from the working class.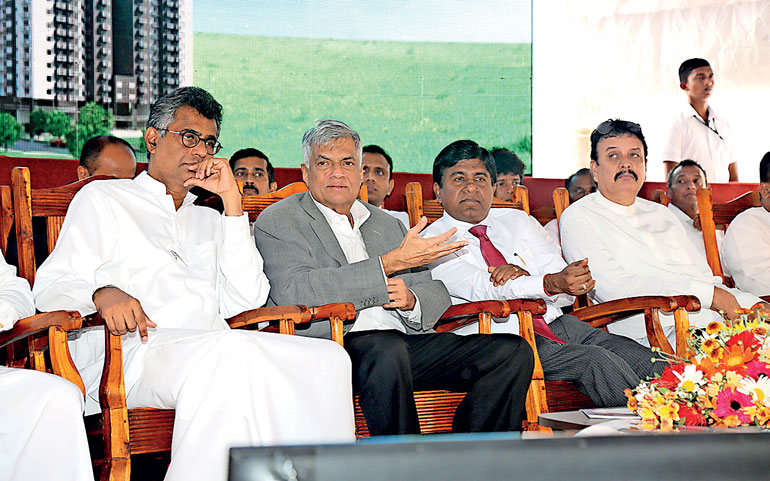 "We could have refrained from doing so but the main parties decided to work together instead. Let us continue to work together and try to solve the problems faced by the country," he declared.

Wickremesinghe also stated that the country has been able to gain the support of the international community as well.

"The world community has kept a close watch on this alliance and we receive the support from all corners of the world and it has helped us to control the debt issue."

The Prime Minister said the total debt which the country has to repay within the next three years was Rs. 4.2 trillion and stressed the need to build a competitive market economy if the country was to be debt-free.

Stressing that Sri Lanka has to establish a base to repay the loans at least by 2020, Wickremesinghe said that export and tax revenue has to be increased to achieve this target. Further, he said that the benefits of a competitive market economy should not be limited to a few who own industries.

"We need the market economy and social justice to go hand-in-hand," the Premier said.