The UN Assistant Secretary-General for Political Affairs, Miroslav Jenca, who is currently on a visit to Sri Lanka (21-25 October), called on the Minister of Foreign Affairs Mangala Samaraweera on Wednesday.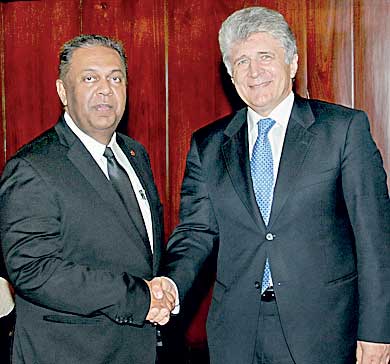 His visit follows recent discussions between the Secretary-General Ban Ki-moon and President Maithripala Sirisena in New York in September.

Jenca will call on Prime Minister Ranil Wickremesinghe and also have meetings with the Office for National Unity and Reconciliation (ONUR) and meet the Governors of the Northern and Eastern Provinces as well as stakeholders in extending UN assistance for long-term development and reconciliation.

His visit will be confined to Colombo and he will also participate in the UN Day event in Colombo on 24 October to celebrate the twin milestones of the UN's 70th anniversary and Sri Lanka's 60th anniversary as a Member State.