The Galle Magistrate's Court yesterday lifted the travel ban imposed on former Defence Secretary Gotabaya Rajapaksa over his alleged role in leasing State-owned weapons to a private company running floating armouries off the high seas.

Earlier this year Galle Police seized 3,000 weapons in 20 containers from the armoury run by a private security firm, Avant Garde Maritime Services Ltd., that was docked off the port of Galle.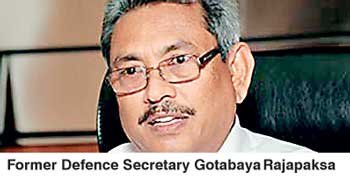 The Court imposed travel restrictions on the former Defence Secretary, former Navy Commander Somathilake Dissanayake and three other Avant Garde officials in order to prevent a hindrance to the ongoing CID investigation.

When the case was taken up at the Galle Magistrate's Court yesterday, the CID made submissions based on a report by the Attorney General. The CID told Court that the Attorney General had informed the Police that there was insufficient evidence to file charges under the Firearms Act, the Explosives Act or the Prevention of Terrorism Act.

The CID told Court that the AG had said the department was going to continue investigations under the Money Laundering Act.

Based on the CID submissions, the Galle Magistrate Neelupuli Lankapura lifted the travel restriction on the former Defence Secretary.

The armoury was a commercial venture that stored weapons for maritime security guards stationed on ships that pass near Sri Lanka. Avant Garde also maintained floating armouries in other parts of the world including in the Red Sea and ports off the African continent.

Investigations revealed that Government issue weapons had been leased to the private security firm without Cabinet or Parliamentary approval.