The Tamil National Alliance (TNA) says launching a protest march like Eluga Thamil (Rise up Tamils!) is not beneficial to the Tamil people at this time when discussions are being conducted for a new constitution.

The Eluga Thamil protest march and rally held in Jaffna on Friday was organised by the Tamil People's Council, led by the Chief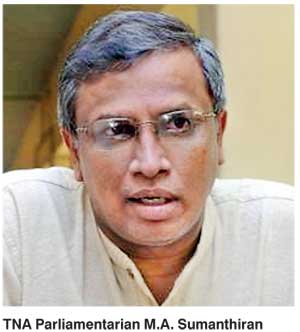 Minister of the Northern Province C. V. Wigneswaran.

TNA Parliamentarian M.A. Sumanthiran told the BBC Sandeshaya service that his party pointed out to the Tamil people in the North that it was not appropriate action to launch a protest march at a time when the party was holding discussions with other political parties in the country on the proposed new constitution.

Sumanthiran stressed that the Tamil people had launched the protest disregarding his party's advice and the TNA had no part in it.

He further said that such protests would create misunderstandings among the southern people about the Tamil party and the Tamil community.

The Tamil National Alliance is committed to finding a just and fair solution for the Tamil community through democratic means and constitutional reforms, he said.

The MP said it will be possible to draft a constitution that was acceptable for Tamil people as well as for other communities through the Constitutional Council which is represented by all political parties.

Chief Minister Wigneswaran earlier said the Sinhala Buddhist people in the south should not misunderstand the purpose of the 'Rise up Tamils' protest and it was not against the Sinhalese or Buddhism.

Meanwhile, scholarly and farsighted independent Tamil observers, including writer Sivarasa Karunagaran and researchers Rajan Hoole and Ahilan Kadirgamar, have viewed the Chief Minister's rally as more of an attempt to gain power and position in Tamil nationalist politics than a genuine attempt to find a realistic and sustainable solution to the Tamil question.