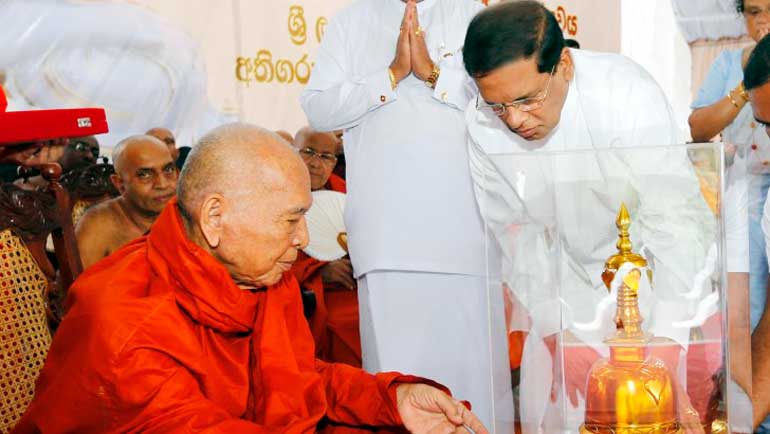 President Maithripala Sirisena says that the Theravada Buddhism is the only religion to heal the restless minds of the people who are living in this stressful contemporary society.

The President was speaking at the religious ceremony to open the newly built shrine room at Sri Salawana Bodhi Vihara in Polgolla. The marble Buddha statue, brought from Myanmar has been placed in this shrine room.

The President said he, together with the Government, will be dedicated to build a better society based on the Buddhist philosophy, while respecting the ideas of other communities. He further stated that the Buddhist philosophy consists of the solutions to develop as a country by building national unity.

He noted this would be another opportunity to strengthen the relationships between Sri Lanka and Myanmar lasting for centuries. He assured that further steps would be taken to develop the relations between the two countries.

After offering poojas in the new shrine room, the President offered ata pirikara to Maha Sangha. He offered gold colored replica of a Stupa to the Sangharaja of Myanmar Most Ven. Kumarabhivanshabhidana Maha Nayaka Thero in honour of his services to the Buddhism. The Maha Nayaka Thero presented a Buddha statue, brought from Myanmar to President Sirisena.

The Maha Nayaka of Asgiri Chapter of Syamopali Maha Nikaya, Maha Vihara Vanshika Most Ven. Varakagoda Dhammasiddhi Sri Pagnananda Gnanarathanabhidana Thero, Maha Nayaka theros of the three Nikaya, Minister Ravi Karunanayake, Governor of the Central Province Niluka Ekanayaka and the Chief Minister of the Central Province Sarath Ekanayake also participated in this event.
---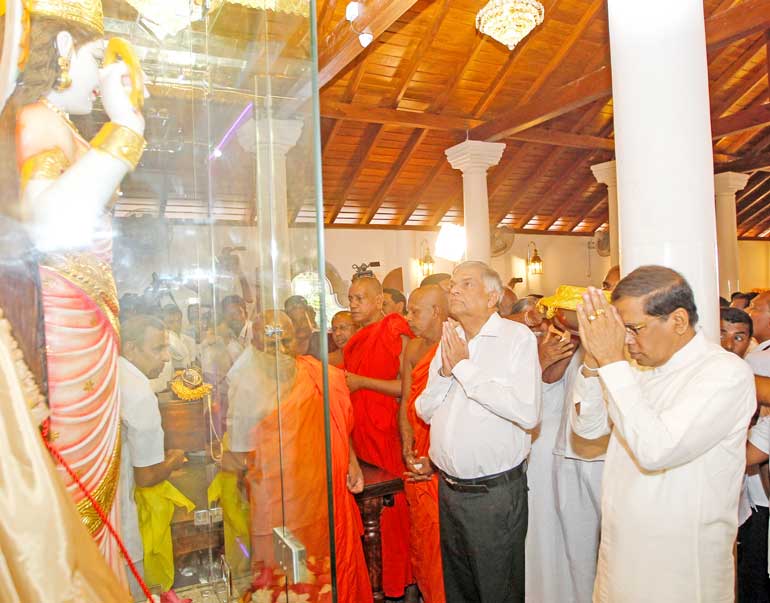 President unveils statue of Goddess Paththini at Nawagamuwa Devalaya
​
President Maithripala Sirisena yesterday unveiled the life-size marble statue of the Goddess Paththini brought from India to Nawagamuwa Purana Sri Maha Paththini Devalaya following a complete renovation of the Devalaya after the hundreds of years for the public to worship.

The President visited the Nawagamuwa Sri Sugatha Bimbaramaya temple last morning at the invitation of the Chief Incumbent of Sri Sugatha Bimbaramaya, Venerable Malwane Pannasara Anu Nayaka Thera and he engaged in religious observances there and received blessings from the Mahasangha.

The President, following inquiries into the wellbeing of the Chief Incumbent and offering pirikara, joined in the unveiling of the statue of the Goddess Paththini for public worship. After unveiling the statue the President offered the first floral tributes to the statue.

The Maha Sangha including the Most Ven. Ittapana Dhammalankara Anu Nayake Maha Thera, Prime Minister Ranil Wickremesinghe, Ministers and MPs including Susil Premajayantha, Lakshman Kiriella and A.H.M. Fowzie, businessmen Nandana Lokuwithana and Dhammika Lokuwithana who provided financial assistance for the renovation works of the Nawagamuwa Purana Sri Maha Paththini Devalaya and many others participated in this event.