Text and pix by Ruzaik Farook

Provincial Councils and Local Government Minister Faiszer Musthapha presented National Identity Cards to 58 street artists at Ananda Coomaraswamy Mawatha in Colombo 7 recently.

The identity cards were issued by the Colombo Municipal Council (CMC) on behalf of the Ministry and provides protection for artists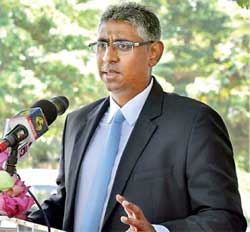 who show their paintings and sculptures along the road.

"I'm very happy, because when I was the Deputy Minister of Tourism, I met with these street artists and made a plan to offer a proper value for their arts. After being appointed as the Minister of Provincial Councils and Local Government, the President and the Prime Minister asked me to implement a program to offer a proper value for their arts. Accordingly, I discussed with these street artists and a massive program is being carried out to attain recognition for them not only here in Sri Lanka but also globally," the Minister said at the ceremony to handover the identity cards.

"My Ministry, the CMC, Tourism Board, Department of Cultural Affairs and some other private institutions are assisting this program. These street artists have been here more than 16 years and the first step to attain global recognition for them is by distributing identity cards under the supervision of my Ministry."

He said plans were in the pipeline to organise extra exhibitions every last week of each month, have billboards in Colombo city and at Katunayake International Airport and make tourists aware of the street artists. The Minister also requested media organisations to increase awareness about the artists among tourists.

"I know the value of the artist and so does the present Government, so I will do my best to assist them," he added.