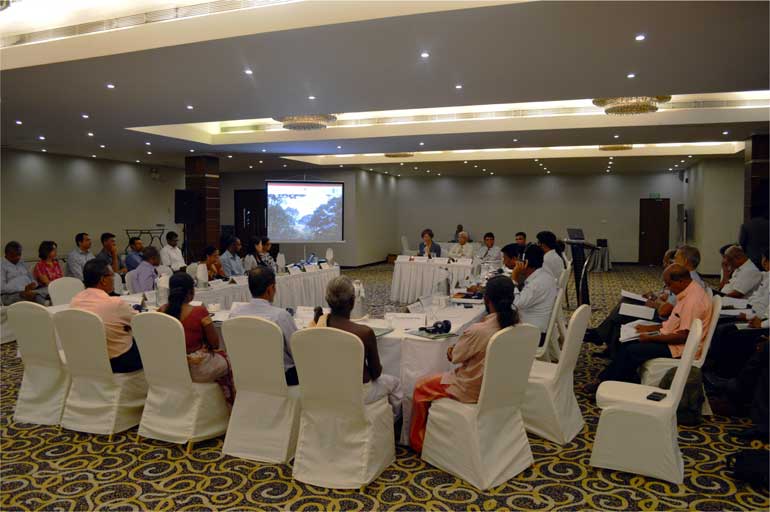 Participants at the 7th PEB Meeting of Sri Lanka UNREDD Programme
The 7th Program Executive Board (PEB) Meeting of Sri Lanka UN-REDD Programme was held on 25 August at Grand Monarch Hotel, Thalawatugoda. The PEB meeting was co-chaired by Secretary, State Ministry of Environment Vajira Narampanawa, Secretary of Mahaweli Development and Environment Minister Eng. Nihal Rupasinghe and FAO Representative to Sri Lanka and the Maldives Beth S. Crawford. The meeting was attended by high-level representatives of REDD+ stakeholder institutions and communities in Sri Lanka.

REDD+ is a global effort to mitigate the adverse effects of climate change by reducing emissions due to deforestation and forest degradation through the auspices of the UNFCC, to which Sri Lanka is a signatory.

The UN-REDD Program is the United Nations collaborative initiative on Reducing Emissions from Deforestation and forest Degradation (REDD) in developing countries. The Program was launched in 2008 and builds on the convening role and technical expertise of the Food and Agriculture Organization of the United Nations (FAO), the United Nations Development Program (UNDP) and the United Nations Environment Program (UNEP).

The UN-REDD Program supports nationally-led REDD+ processes and promotes the informed and meaningful involvement of all stakeholders in national and international REDD+ implementation. These stakeholders include Civil Society Organisations (CSOs), Indigenous Peoples (IPs) and other forest-dependent communities, as well as Civil Society Organisations and the private sector.

UN-REDD is currently supporting the Government of Sri Lanka to develop a national REDD+ strategy. The REDD+ vision for Sri Lanka is 'Beyond forests, sustaining life and livelihood in a greener Sri Lanka.' It is a vision to improve land management, enhance environmental services, conserve biodiversity, maintain economic growth, and minimise the risk of natural disasters through a stepwise, decentralised and nested approach.

With over 50 countries around the world participating in this global program, Sri Lanka is presently at the 'readiness' phase of REDD+.