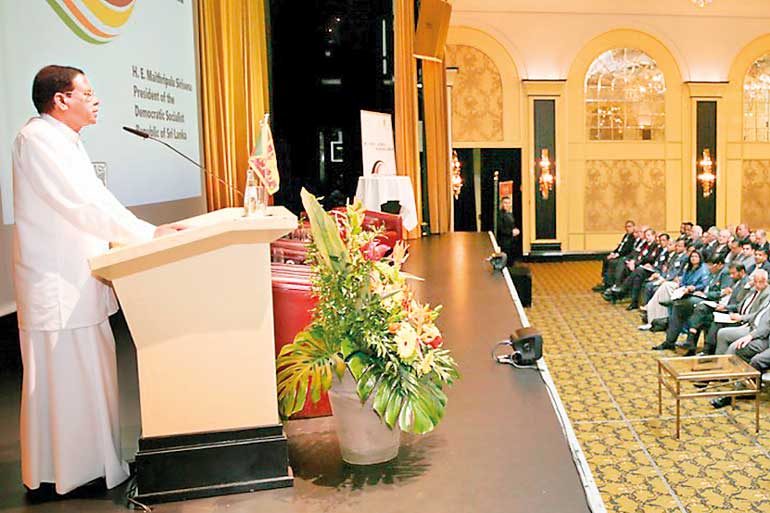 "We want to develop the core of a competitive economy and we're now ready for business," said President Maithripala Sirisena, addressing the Sri Lanka-Germany business forum last week.

Marking the last event in his tour of Germany, President addressed a full house audience of Germany's leading businesses highlighting the importance of mutual collaborations that would benefit the people and the businesses of both countries.

The business forum, held at the Hotel Maritim in Berlin, was attended by more than 250 German businesses and a Sri Lankan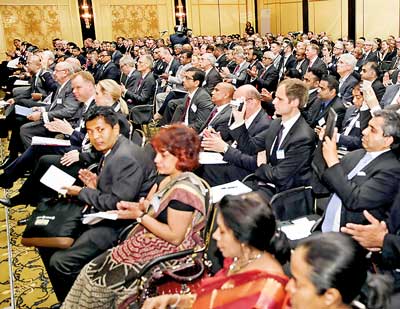 business delegation representing the major sectors of trade with Germany.

Highlighting the positive outcomes of his meeting with German Chancellor Angela Merkel, President assured the German business leaders that Sri Lanka "is committed to a process of upgrading our education and skills development and training capacities. We want to form the core of a competitive modern economy. Sri Lanka today is ready for business and our economic transition is set in motion."

The President's address was followed by a panel discussion with German businesses, in which Ministers Managala Samaraweera, Malik Samarawickrama, Ravi Karunanayake, and Daya Gamage participated to answer the questions from the audience.

Sri Lanka and Germany have Euro 700 worth of annual trade, which is planned to be increased to Euro 1 billion soon.