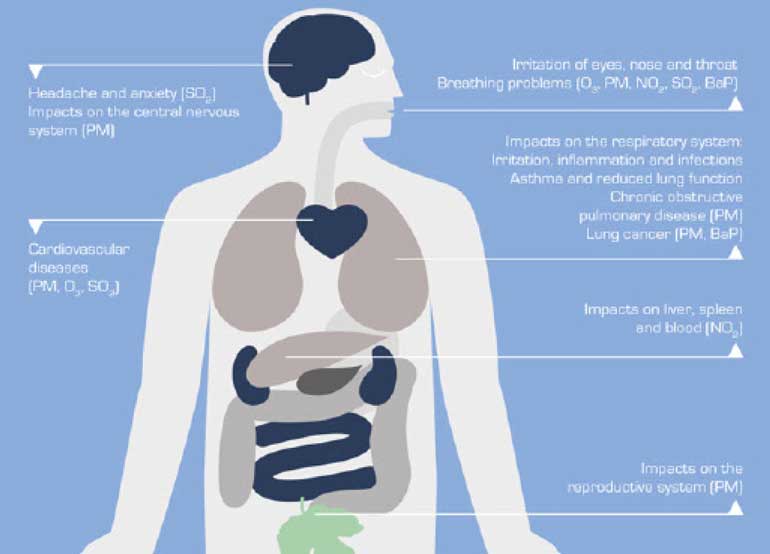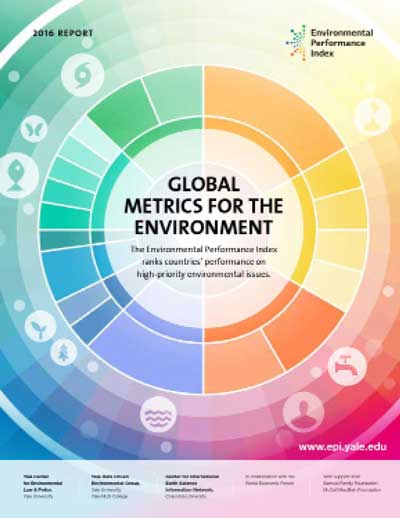 Good outdoor air quality is fundamental to human well-being. On average, a person inhales about 14,000 litres of air every day, and the presence of contaminants in this air can adversely affect people's health (see image 1). People with pre-existing respiratory and heart conditions, diabetes, the young and older people are particularly vulnerable.

Yale University USA in its annual World Environmental Performance Index has placed Sri Lanka in 108th position in the world and highest in South Asia (see image 3) a marked improvement from its previous performance. Experts attribute this encouraging achievement in part to Sri Lanka's stringent vehicle emission testing program and supporting legislation introduced in 2008.

Sri Lanka leads its regional neighbours India 141, Bangladesh 173 and Pakistan 144 by a considerable margin. Environmentalists see the EPI 2016 Report, an exhaustive environmental impact assessment study carried out annually, (see image 3) as a critical tool in evaluating the changes in air quality necessary for survival of Earth's ecosystem.

Overseas studies have shown poor air quality can also adversely affect the natural environment. Ecological damage may occur when air pollutants come into direct contact with vegetation or when animals inhale them. Pollutants can also settle out of the air onto land and water bodies. From the soil, they can wash into waterways, or be taken up by plants and animals. Poor air quality can also affect our climate: some pollutants have a warming effect while others contribute to cooling (European Environment Agency).

The Environmental Performance Index (EPI) identifies targets for several core environmental policy categories and measures how close countries come to meeting them.

These effects of poor air quality on human health and the environment can, in turn, have negative economic impacts. The country incurs major costs, for example, for hospitalisation and medical treatment, premature deaths, and lost work days. Damage to soils, vegetation, and waterways may reduce the productivity of agriculture and forestry industries. In urban areas, air pollution can be costly when, for example, transport is disrupted (due to large-scale events like volcanic eruptions), or corroded buildings need to be repaired. Since 2008 it is mandatory in Sri Lanka for every vehicle to undergo an emission test. Emissions testing measures amount of pollution caused by automobiles as a means of controlling air pollution. Usually, a tailpipe test is performed to determine the amount of specific gases vented out of car exhausts. Around the world, 18,000 people die every day because of air pollution. The World Health Organisation says the number of deaths attributed to air pollution is 6.5 million a year. That's more than the number of people killed by HIV/AIDS, tuberculosis and road injuries combined.In fact, air pollution is the fourth-largest threat to human health, behind high blood pressure, dietary risks and smoking. It is a problem around the world, but some countries are much more affected than others.

Sri Lanka has defied global trend in air pollution and has shown no deterioration in ambient air quality, despite steady and sharp increases in vehicular population, which increased by 40% in four years without a corresponding increase in air pollution. This is vastly attributed to the compulsory air emission test law.