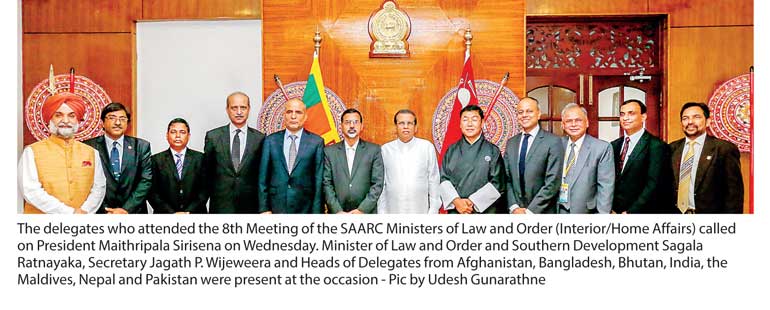 President Maithripala Sirisena called on South Asian leaders to cooperate in collective programs to eradicate the drug menace. He said that the spread of narcotic drugs and psychotropic substances is the most dangerous threat to the youths in the region and it requires constant attention and the utmost vigilance to prevent smuggling and distribution of drugs.

Speaking to the delegates attending the 8th Meeting of the SAARC Ministers of Law and Order (Interior/Home Affairs), who called on him at his official residence in Colombo on 12 July, the President said the drug menace has caused irreparable damage to the society. He said that he met the family of a child who was killed in crossfire when a group of drug smugglers fired at officers of the Narcotic Bureau recently and said while one officer and a 12 year old child were killed and another child was injured in the firing. "The injured child showed me his gunshot wound and it was indeed a sensitive moment for me," President Sirisena said.

He said that when inquired as to what was the damage to the shop owned by the parents of the dead child, the father replied it was about Rs. 150,000. "And immediately I made a compensation payment Rs. 1.5 million to them as they have lost their daughter too, and they deserve a better compensation, though money will not bring back the dead child," the President said.

He told the SAARC delegation leaders that he narrated this story to emphasise the danger of drugs to the society and children and urged them to take effective action to eradicate drugs.

SAARC Secretary General Amjad Hussain B. Sial explained to the President about the progress of the first two days of official meetings and said the Ministerial Meeting will endorse the decisions.

He said that in addition to the decision on exchange of information on narcotic drugs and psychotropic substances smuggling, the officials, during the discussions of immigration and emigration issues in the region, agreed to issue an electronic stamp on the passport of selected people for visa-free travel between SAARC countries.

Minister Sagala Ratnayake, Secretary Jagath P. Wijeweera and Heads of Delegates from Afghanistan, Bangladesh, Bhutan, India, Maldives, Nepal and Pakistan were present on this occasion.

The SAARC Meeting is organised by the Ministry of Law, Order and Southern Development in collaboration with the Ministry of Internal Affairs, Wayamba Development and Cultural Affairs.

Terrorism, liberalisation of visas, illegal trafficking in narcotic drugs, psychotropic substances and small arms and how to make coordinated and concerted efforts to combat such menace, were the issues to be covered at the meeting.