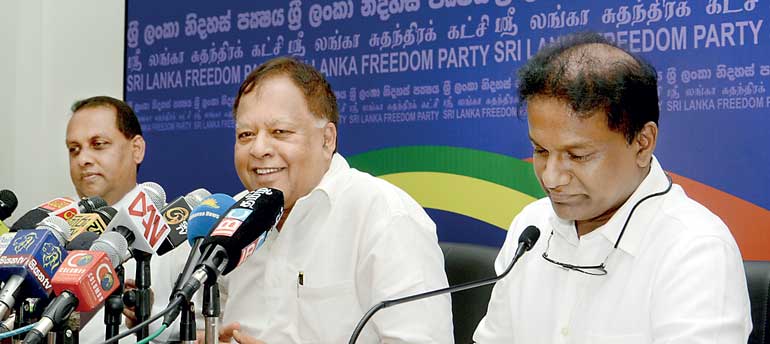 SLFP committee member and Minister of Higher Education and Research Dr. Sarath Amunugama (centre) at yesterday's briefing flanked by MP Thilanga Sumathipala (right) and MP Mahinda Amaraweera - Pic by Gayan Amarasekara
By Chamodi Gunawardana

The Sri Lanka Freedom Party (SLFP) yesterday announced its nomination of former Speaker of Parliament Chamal Rajapaksa to lead the United People's Freedom Alliance (UPFA) following consultations with its constituent parties.

Addressing a press briefing, SLFP committee member and Minister of Higher Education and Research Dr. Sarath Amunugama confirmed that their report recommending Rajapaksa to the post had already been presented to President Maithripala Sirisena.

"President Sirisena appointed this committee to discuss with the SLFP's small and minority parties. President Sirisena asked us to compile a report on our discussions, which we submitted on Wednesday. We have recommended former Speaker Rajapaksa as the next UPFA leader through that report," Amunugama said.

He added that the recommendation was based on the charismatic leadership that former Speaker Rajapaksa had shown during his political career.

"The former Speaker is a decent leader who controlled the Parliament in an unbiased manner. Therefore we recommended him. However this recommendation is not finalised," Amunugama explained.

Amunugama added that the committee has obtained few different suggestions from small and minority parties about the leadership of the UPFA.

"The committee conducted number of discussions with small and minority parties. Minority parties in particular want to carry out their politics under a good leader who could support their political ambitions. We believe that former Speaker Rajapaksa will be a best person for their requirements," Amunugama stated.

Amunugama also stated that SLFP and UPFA take all necessary action to defeat the United National Party (UNP) in the upcoming election.

"Members of SLFP and UPFA have so many options for their leadership and for their Prime Ministerial candidate, however we all are still in the discussion stages. We will select the best option which could defeat UNP totally in forthcoming election," Amunugama asserted.