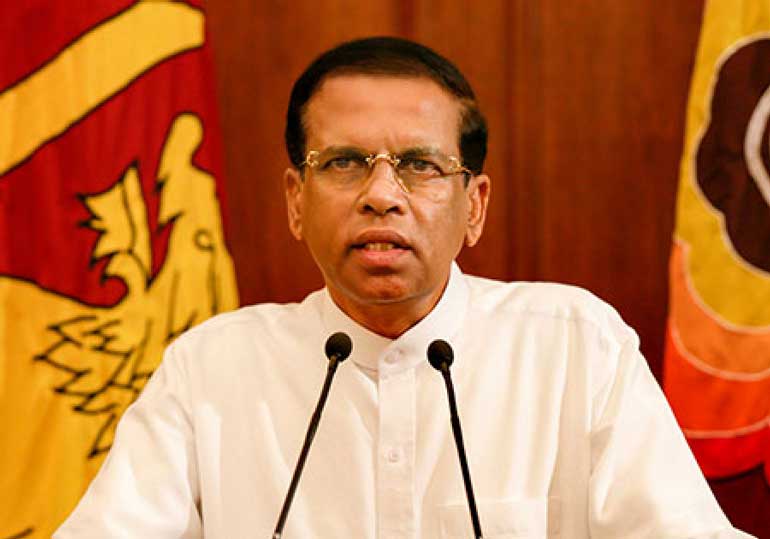 President Maithripala Sirisena
The Central Committee of the Sri Lanka Freedom Party (SLFP) yesterday decided to authorise President Maithripala Sirisena, as the Chairman of the party, to appoint SLFP Ministers to the National Government as well as the Opposition Leader, Chief Opposition Whip and Deputy Speaker.

The proposal was approved at the SLFP Central Committee meeting which was held at the party's headquarters yesterday.

A decision has been taken that all 80 SLFP MPs out of the 95 UPFA MPs elected to Parliament should unanimously approve the President's decision and that strict disciplinary action would be taken against any SLFP Parliamentarian who opposes the said decisions.

President Sirisena has also been empowered by the Central Committee to decide on the appointment of SLFP Ministers to the National Government.
Sri Lanka Freedom Party

64th

anniversary celebrations in

Polonnaruwa

on 2 Sept.
The Sri Lanka Freedom Party (SLFP) will celebrate its 64th anniversary in Polonnaruwa on 2 September under the patronage of Party Leader President Maithripala Sirisena, SLFP General Secretary Duminda Dissanayake said.

Addressing a media briefing in Colombo Thursday, Dissanayake said the former SLFP leaders, including former Presidents Mahinda Rajapaksa and Chandrika Bandaranaike Kumaratunga have been invited.

He added that party leaders of the UPFA, chairmen of local government institutions, members of Provincial Councils, and many others who have been with the party have also been invited. The SLFP was founded by the fourth Prime Minister of Sri Lanka late S.W.R.D Bandaranaike in 1951 and, since then, it has been one of the two largest parties in the Sri Lankan political arena.

An Ashirvada Pooja will be held at the ancient Somawathiya Temple from 7 a.m. on 2 September to invoke blessings on the party. A Pirith chanting ceremony will follow the Rankoth Vehera premises, Polonnaruwa from 10 a.m.

Multi-faith religious ceremonies will be held throughout the week at places of religious worship to invoke blessings on the party, the people and the country.