Dilan says Government should also investigate Perpetual Treasuries' extraordinary profits
By Chamodi Gunawardana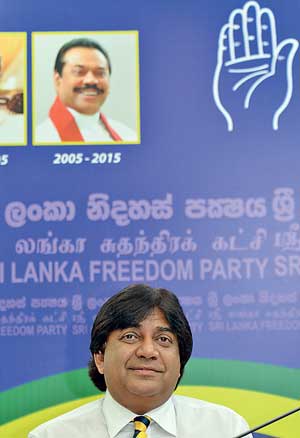 SLFP Spokesman Minister Dilan Perera yesterday echoed the Joint Opposition's demand for a presidential commission to be appointed to investigate the controversial bond issue by the Central Bank in January 2015, as malpractice may have occurred during the tenure of former Governor Arjuna Mahendran.

The SLFP is requesting the Committee on Public Enterprises (COPE) to release the report on the bond issue as soon as possible to determine whether there was any wrongdoing, Perera said while addressing the SLFP's weekly media briefing. "The majority of the COPE committee is eager to submit the report immediately. It will be released within next two weeks," he said.

"As SLFPers, we believe that fraudulent activities took place during Arjuna Mahendran's tenure as the Governor of the Central Bank. That is why we were opposed to the extension of his term."

Commenting on the alleged extraordinary profit gained by Perpetual Treasuries Ltd, the company belonging to Mahendran's son-in-law, Perera recommended that it should also be probed by COPE in order to uncover the means through which the company had gained such profits over a short period of time.

Perera also requested President Maithripala Sirisena and Prime Minister Ranil Wickremesinghe to increase the salary of the Auditor General by an amount equal to that given to the Director General of the Commission to Investigate Allegations of Bribery or Corruption Dilrukshi Wickremasinghe.

"The Auditor General is the main person who was behind all these processes and he gave his utmost support to investigate such matters. The Government has to treat him better," he said. Commenting on the 2017 Budget, Perera said the SLFP would vote in favour of it only if its proposals were accepted by the Government.