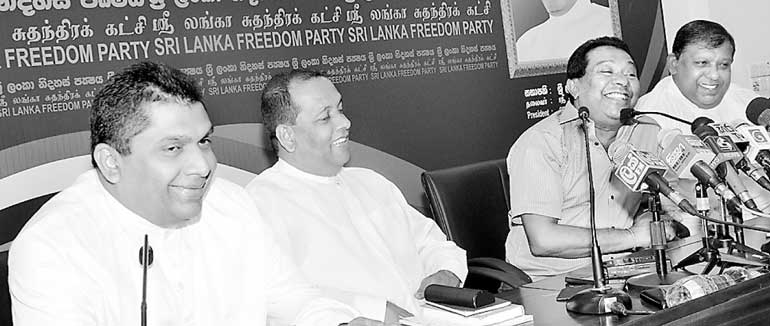 By Jayashika Padmasiri

The Sri Lanka Freedom Party (SLFP) yesterday announced that its remaining ministers in the coalition Government would make a decision on whether they would remain in the Government after discussions within the party and with the President, following the implementation of the 20th Amendment.

Minister of Fisheries and Aquatic Resources Mahinda Amaraweera yesterday explained that the four SLFP ministers did not resign from the Government due to any conflicts that occurred between them and the remaining SLFP ministers of the Government or the President.


"They made this decision after speaking to us. Their opinion was that a few SLFP ministers should resign from the Government while the rest of the SLFP Ministers should remain in the Government to implement 20A. They left the Government with the intention of forming a United People's Freedom Alliance (UPFA) Government," Amaraweera said.

He added that if somebody was accusing them of not criticising the Government or the United National Party (UNP) just because they were ministers of the Government, those people were wrong.

"For example, we have been criticising Arjuna Mahendran and demanding his dismissal. It was because we were in the Government that the 19th Amendment was passed in Parliament and in that same manner the 20th Amendment will get passed in Parliament because we are in the Government. And we were also able to resume development activities that were abandoned by the UNP after we assumed duties," Amaraweera added.


He also pointed out that many SLFP ministers were disappointed with the behaviour of the Prime Minister and were not ready to agree with everything he suggested. He added that the SLFP would continue to criticise the wrong actions of the UNP and the Government.

Meanwhile, Minister of Rural Economic Affairs S.B. Dissanayake said that the SLFP succeeded in introducing a new electoral system for the 20A when the UNP was trying to evade the 20A.


"We were able to do that because we joined the Government. President Sirisena told us that 20A would be brought forward and to trust him. The 20A is something that the people of this country are asking for more than the 19A. What we want is to gather all the presidents and prime ministers of the SLFP and to create a UPFA government by winning the votes that we lost during the past presidential election," Dissanayake said.


He added that though President Sirisena and parties such as the Jathika Hela Urumaya (JHU) claimed that there was family nepotism in the SLFP and other such similar allegations, in the 2014 Central Bank report Arjun Mahendran had stated that development was there in the country in many aspects.


"Therefore the credit for that development should go to President Rajapaksa's Government," he said.

Answering a question as to whether any other SLFP ministers within the Government were planning to resign, Dissanayake said that he did not and believed it to be mere speculation circulating in the country. "Any person can resign and that it is a personal decision," he added.

– Pic by Shehan Gunasekara