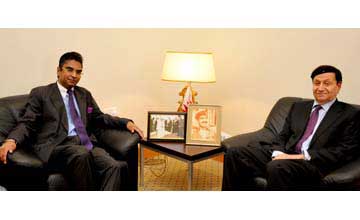 Sri Lankan Ambassador to the Kingdom of Bahrain Dr A. Saj U. Mendis this week met with Chief Economic Advisor to the King of Bahrain and Bahrain's former Minister of Industry, Commerce and Tourism Dr Hassan bin Abdullah Fakhro at the Gudaibiya Palace, where they discussed viable courses of action to boost economic, touristic, commercial, industrial, trade and investment relations between the two countries.

Among the myriad issues discussed were the "highly volatile and fractious global economic milieu today and the most decisive and incisive stratagems to navigate the two countries in the sphere of economic and commercial relations," the embassy said in a press release. In this context, Dr Mendis said that tourism in Sri Lanka, this year, would reach 2.5 million, given the vast touristic attractions as well as absolute peace and stability in the country. Sri Lanka has been listed as one of the most sought after tourist destinations in the world by globally reputed magazines, journals and electronic media, he said, calling on Bahrain nationals to visit the island.

Chief Advisor to His Majesty the King of the Kingdom of Bahrain Dr Hassan Fakhro with Ambassador Dr Saj Mendis, at the Gudaibiya Palace of the HM the King in Manama

H.E. Dr Fakhro, acknowledging the economic and political stability of the country, said that the two countries have yet to utilise the strategic vantages of economic, commercial, touristic, investment and outsourcing as well as natural endowments and human resources. He added that Sri Lanka is well poised and well positioned to be a rapidly developing nation, particularly, due to her strategic location, economic and political stability and predictability and vision of the new Government, among others. Both Dr Fakhro and Ambassador Dr Mendis noted that the two countries have had informal bilateral relations not only for decades but for centuries due to the sphere of activity in commerce and trade. The embassy noted in its statement, that Dr. Fakhro was receptive to engage with Sri Lanka in areas of economy and commerce since both countries are island states and similar in nature and in substance.