By S.S. Selvanayagam

The Supreme Court yesterday (14) fixed to support on 22 June for granting of leave to proceed with the Fundamental Rights petition filed by Bodu Bala Sena (BBS) General Secretary Ven.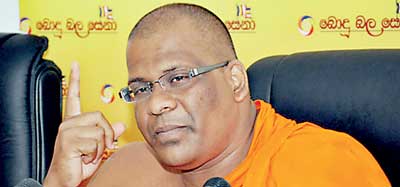 Galagoda Atte Gnanasara Thero seeking the Court to preventing the Police from arresting him over several allegations.

The Bench comprised Chief Justice Priyasath Dep and Justice Anil Gooneratne.

Petitioner cited OIC of Organised Crimes Prevention Division and three others as Respondents. Tirantha Walalaliyadde PC instructed by Shashika Mithuna Arachchi appeared for the petitioner.

He is also seeking the Court to grant an Interim Order preventing the Police from arresting him until the investigation against him is concluded and advice of the Attorney General is obtained.

He states that there is an islandwide search for him to apprehend him and a number of Police teams have been deployed for this purpose.

He states that the Organised Crimes Prevention Division (OCPD), which is conducting an investigation linking him to inciting communal disharmony, is preparing to arrest him without any proper investigation and due process.

He filed his petition for the alleged violation of his fundamental right to equality and freedom from arbitrary arrest as well as the right to the freedom to enjoy and promote his own culture and to use his own language.