By S.S.Selvanayagam


The Supreme Court yesterday (3) re-fixed for 13 March the hearing of the rights petition filed by former Defence Secretary Gotabhaya Rajapaksa lamenting of imminent arrest and detention by Financial Crime Investigation Division (FCID).

The matter came up before Chief Justice K.Sripavan, Justices Sisira J.De Abrew and Upali Abeyratne.

When the petition was, in the first instance, taken up on 13 May, for support for granting leave to proceed, Justice Buwaneka Aluvihara had declined to be a member of the Bench and the two-judge Bench comprising Justices Eva Wanasundera and Sarath de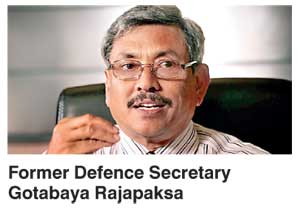 Abrew had granted an Interim Order preventing the FCID and others from arresting the former Defence Secretary for the alleged financial crime..

They had also granted leave to proceed with his petition for the alleged imminent infringement of his fundamental rights to equality and equal protection of the law, and to freedom from arbitrary arrest and detention as well as his right to the freedom of movement.

Petitioner Gotabhaya cited Prime Minister Ranil Wickremesinghe, members of the Cabinet, Secretary to the Cabinet, Secretary to the President, IGP N.K.Ilangakoon, CID Director B.R.S.R.Nagahamulla, DIG of the Financial Crime Investigation Division Ravi Waidyalankara and the Attorney General as respondents.

Romesh de Silva PC with Ali Sabry PC, Sugath Caldera and Sanath Wijewardane appeared for the petitioner. K. Kanag- Isvaran PC appeared for the Prime Minister, and Senior State Counsel Dr Avanti Perera appeared for the respondents.

Petitioner Gotabhaya filed the petition seeking an Interim Order preventing police from arresting him over several purported investigations and a declaration that the gazette notification on the Fraud Crimes Investigations Division is ultra vires.

He states in his petition that consequent to the Presidential Elections held on 17 November, 2005, his brother Mahinda Rajapaksa was elected the President.

He adds he accepted the office of Secretary of Defence in December 2005 -in an area in which he possessed a large wealth of knowledge and experience having served in the Sri Lanka Army.

He states the National Executive Council (NEC), and its members in several newspapers and media channels continued their malicious and vicious campaign against him and the members of his family alleging that they had staged a coup on the night of the elections to hold on to the power contrary to the mandate of the people.

The members of the NEC were instrumental in articulating the allegations continued with their efforts to make false and baseless allegations against him over the floating armoury which was found to have been docked at the Galle harbor with a large consignment of weapons and ammunitions, and over allegations of corruption and irregularity in the purchase of MiG 27 in year 2006, purported share manipulation at Lanka Hospitals Limited and the leasing of aircrafts at the time of tenure in the office of Chairman at Mihin Lanka, he laments.

In the light of the backdrop of the events transpired, there was a serious likelihood that, if he appeared before the FCID, he would be arrested pending investigations, without rationally considering the explanations and clarifications he could provide, he bemoans. The investigative unit, the FCID was admittedly established to look in to complaints forwarded by the cabinet sub-committee under the patronage of the Prime Minister who was also a member of the said purported "National Executive Council", he complains.

In the light of the complaints being forwarded by the Sub-Committee, there was a likelihood that the FCID is being biased and coerced and could make a finding adverse to him, he bewails.
Court gives Gota leave to travel to China
Court has granted former Defence Secretary Gotabaya Rajapaksa leave to travel to China to attend a defence seminar.

Colombo Chief Magistrate Gihan Pilapitiya granted the former powerful official leave to travel when he issued his order on an appeal made by Rajapaksa's lawyers last Friday (30).

The former Defence Secretary's passport was impounded last week, when he was briefly detained and granted bail in a case relating to the private security firm Avant Garde that was filed by the Bribery Commission.

Chief Magistrate Pilapitiya slapped a travel ban on all eight suspects in that case, but three of them including controversial Avant Garde Chairman Nissanka Senadhipathi and Gotabaya Rajapaksa requested leave to travel from court for medical and other needs.

The Chief Magistrate ordered that Rajapaksa's passport be released temporarily but imposed a further personal bail of Rs. 5 million.

The Bribery Commission filed a case against Gotabaya Rajapaksa, Senadhipathi and six others for causing losses to the tune of Rs. 11 billion to the Government by their decision to allow Avant-Garde to operate a floating armoury using Sri Lanka Government weapons.

The former Defence Secretary who was noticed to appear in Court was briefly detained in a Court detention cell last Friday until the Magistrate decided on bail for the eight suspects. (DB)