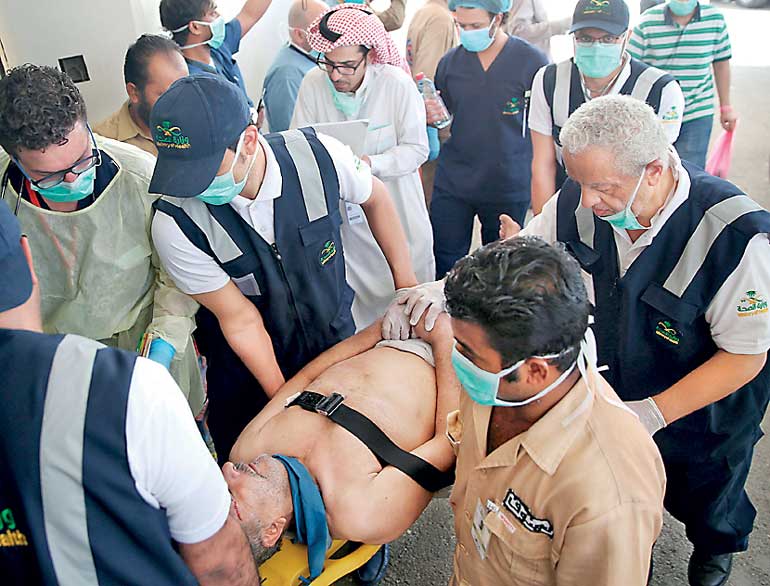 Medical staff carry a way wounded pilgrim following a crush caused by large numbers of people pushing at Mina, outside the Muslim holy city of Mecca 24 September 2015. The death toll from a stampede during the annual Muslim hajj pilgrimage in Saudi Arabia on Thursday has risen to 453 people of various nationalities, the Saudi civil defence said - Reuters
At least 717 pilgrims were killed on Thursday (September 24) in a stampede outside the Muslim holy city of Mecca, Saudi authorities said, the worst disaster to strike the annual haj pilgrimage in 25 years.

At least 805 others were injured in the crush at Mina, a few kilometres east of Mecca, caused by two large groups of pilgrims arriving together at a crossroads on their way to performing the "stoning the devil" ritual at Jamarat, Saudi civil defence said.

Thursday's disaster was the worst to befall the pilgrimage since July 1990, when 1,426 pilgrims were crushed to death in a tunnel near Mecca. Both stampedes occurred on Eid al-Adha (Feast of the Sacrifice), Islam's most important feast and the day of the stoning ritual.

The pilgrimage, the world's largest annual gathering of people, has been the scene of deadly disasters in the past, including stampedes, tent fires and riots.

Safety during Haj is a politically sensitive issue for the kingdom's ruling Al Saud dynasty, which presents itself internationally as the guardian of orthodox Islam and custodian of its holiest places in Mecca and Medina.

The Government has spent billions of dollars upgrading and expanding Haj infrastructure and crowd control technology in recent years, and the last big deadly incident took place in 2006 when at least 346 pilgrims died in a stampede.

Street 204 is one of the two main arteries leading through the camp at Mina to Jamarat, where pilgrims ritually stone the devil by hurling pebbles at three large pillars. Jamarat was also the site of the 2006 disaster and several other past ones.