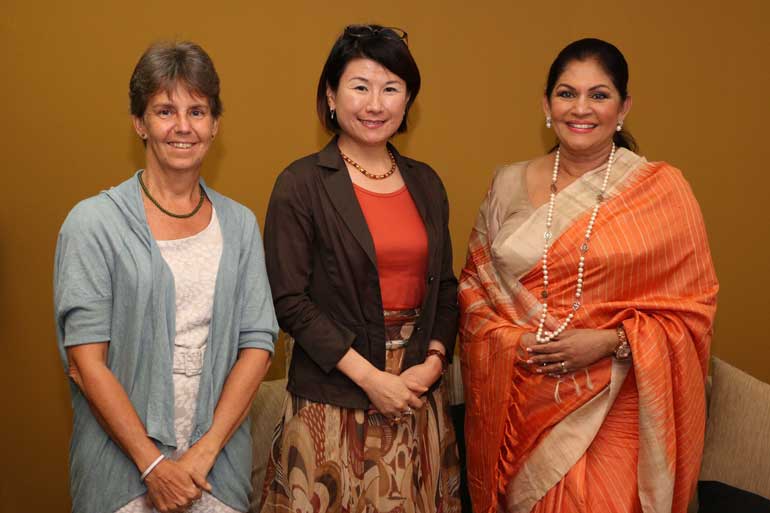 State Minister of Child Affairs Rosy Senanayake recently met with Embassy of Japan in Sri Lanka Deputy Head of Mission Asako Okai and UNICEF in Sri Lanka Representative Una McCauley. At their meeting, Okai briefed the State Minister about a UNICEF project which is being funded by the Embassy of Japan in Sri Lanka and she also invited the State Minister to attend the 'World Assembly for Women' which is set to take place in Tokyo from 28-29 August.

Highlighting the details of the UNICEF project which the Embassy of Japan in Sri Lanka is funding, Okai advised that she hopes to work with the Ministry of Child Affairs and UNICEF to develop a plan of action and draft bills related to children's affairs in Sri Lanka. She also highlighted that the project will strengthen the functioning of the 1929 hotline and it will also support the training of social workers and counsellors in the Northern and Eastern Provinces. Okai also advised that Japanese Embassy officials in Sri Lanka will visit the National Child Protection Authority soon, to study and evaluate the 1929 hotline and provide their recommendations. She also extended an official invitation to the State Minister, to attend the 'World Assembly for Women' in Tokyo. At the event, political leaders, business leaders and opinion leaders from around the world will come together in Japan to discuss and disseminate a plan to promote women to take on more active roles in society.

At the meeting, Una McCauley, advised that the final UNICEF project documentation which the Embassy of Japan is funding will be submitted to the Ministry and Embassy shortly for their approval. McCauley also provided an update on the recent communication campaign which was launched by UNICEF and the Ministry to prevent child sexual abuse and violence against children in Sri Lanka.

Rosy Senanayake extended her appreciation to both Okai and McCauley and reiterated that the Ministry is currently preparing to draft a bill on children's rights and submit it to the parliament in due course. She also revealed her plans to establish a child-friendly hotline and a child-friendly secretariat to support the work of the 1929 hotline and respond to a broader scope of problems that children face, as the 1929 hotline is limited to dealing with reports on sexual harassment and violence against children.