President Maithripala Sirisena said that religious education in the country could play a pivotal role in building national reconciliation and peace.

He made these remarks while attending the Dialogue on Inter-Religious Education, held at the BMICH on Friday.

This program was organised by the Ministry of National Integration and Reconciliation with the aim of integrating the concept of national integration and reconciliation into the religious education of the country through inter-religious leaders and religious education teachers.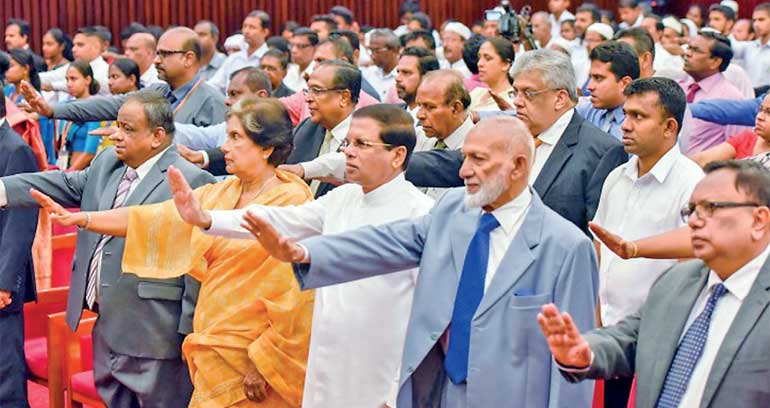 The President further said that the country should take steps to build mutual trust and brotherhood among children irrespective of their race and religion, through religious education.

President Sirisena also said that religious education must act as a support to build a better future generation with positive thinking.

A commemorative stamp and first day cover were issued to mark National Integration and Reconciliation Week and the Minister of Post H.M. Abdul Haleem presented them to the President.

The Dialogue on Interreligious Education was comprised of two sessions. The first session was held under the theme of promoting national integration and reconciliation through inter-religious religious education. The second session was held under the theme of new proposals to improve national integration and reconciliation.

Inter-religious leaders, including former President and the Chairperson of the Office for National Unity and Reconciliation Most Ven. Dr. Ittapana Dhammalankara Maha Nayake Thera, former president Chandrika Bandaranaike Kumaratunga, State Minister A.H.M. Fowzie, Ministry of National Integration and Reconciliation Secretary Sivagnanasothy, and many others participated in the event.