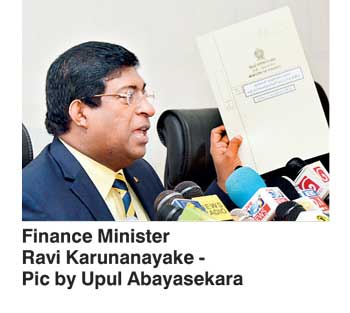 By Charumini de Silva

Finance Minister Ravi Karunanayake yesterday said that he would file a defamation lawsuit against Joint Opposition MP Udaya Gammanpila for making baseless allegations and trying to tarnish his image.

Minister said that he would teach Gammanpila a lesson to be remembered, adding that taking him to courts would be the most appropriate response.

"We are not beggars like him. I came into politics from a professional background. I am engaged in politics with good intentions to serve the country and the people," he said at a press briefing held at the Ministry yesterday.

He pointed out that certain bankrupt politicians of the Joint Opposition were making baseless allegations and they would not be able to stall the development the Government was working on.

"Those who are responsible for the country's increased debt burden from Rs. 1,700 billion to Rs. 9,500 billion are now questioning us about what happened to the country. We would like to tell them with responsibility that we have been facing all the challenges and are building up a vibrant economy," Karunanayake stated.

The Minister stressed that the coalition Government had managed to increase revenue to GDP from 10.2% to 13.8% during the past two years. He added that from 8 January the Government had managed to initiate 48 development projects in every nook and corner of the island.

"The former regime failed to collect State revenue to at least repay their loan installment, but after we took over economic management, the coalition Government has not only improved state revenue to considerable levels, but has also uplifted the country's image," he noted.