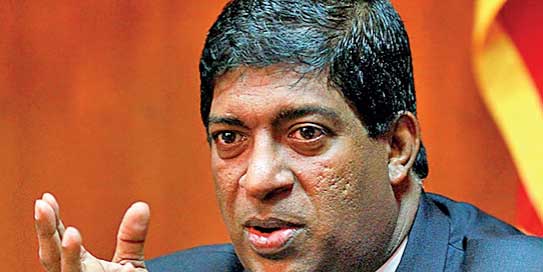 Finance Minister Ravi Karunanayake yesterday denied connection to a fake Twitter and Facebook account attributed to him and has ordered a complaint to be made to the Criminal Investigation Department (CID) while also notifying the Computer Emergency Readiness Team (CERT).

The following statement was released by the Finance Ministry regarding the two accounts.

It has been brought to my notice that a fake Facebook account accompanied by an interconnected Twitter account is being carried out under the names of Ravi Karunanayake Lanka Intelligence and Ravi Karunanayake @RavikOfficial implying them as the official Facebook and official Twitter account of Ravi Karunanayake, Minister of Finance, Sri Lanka.

I have no connections whatsoever with these two pages which publishes news detrimental to the interests of the national unity government and the coexistence of Sri Lankan society.

I have informed my officials to make a complaint with the CID in these connections. Further, it has already been brought to the attention of the CERT (Computer Emergency Readiness Team), a national centre for cyber security in the country which functions as a division of the LK Domain Registry with academic partners to provide computer emergency response services to public and private sector institutions in Sri Lanka.