Finance Minister Ravi Karunanayake on Sunday appealed to trade unions, calls for the commitment of all relevant parties in the wake of the initiatives launched by the government to rebuild the country that was in economic chaos for the past ten years.

The Minister said this at a ceremony held 13 December at the Kolonnawa District Secretariat to award compensation to the people of Kolonnawa area whose lands have been acquired for road development purposes.

Speaking further, the Minister said, "For a period of 10 years, Sri Lanka's economy was in tatters. It is not worth quibbling over such matters now. On 8 January this year, people gave a historic mandate handing over the responsibility of reversing this trend to a new President. With the mandate received at the general election, the inceptive step of the rebuilding process of the country was taken through the 2016 budget proposals.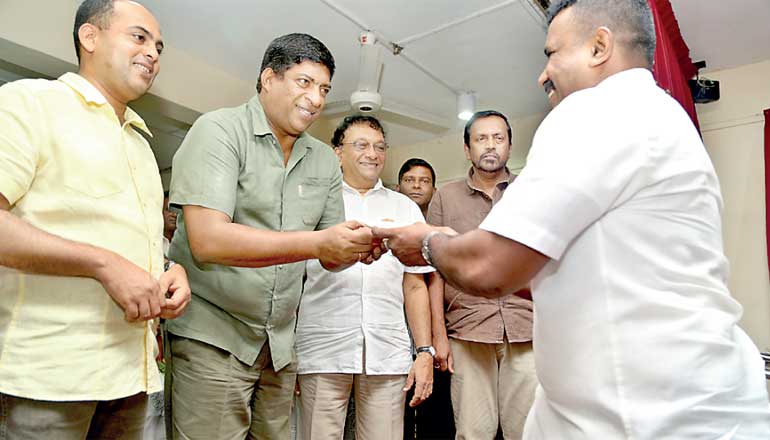 Finance Minister Ravi Karunanayake presents an entitlement of compensation to a resident in Kolonnawa flanked by MP S.M. Marikkar (left) and Minister of Highways & Higher Education Lakshman Kiriella


At a time, many have volunteered to make sacrifices towards this end; it appears that a small minority is trying to achieve narrow political objectives. It is sad to see that certain disruptive elements that still stand up for the former regime trying to plunge the country into crises.

The leader of the United National Party and the leader of the Sri Lanka Freedom Party have joined hands to usher in a new political culture unprecedented in the history of the country and the people too should be prepared to make certain sacrifices for the greater good of the country.

Workers rights should be protected. But trade unions should not become pawns of political parties. The budget presented by us is not aimed at strengthening one family or one social class. It is a budget that injects new life into entire society. Therefore trade union leaders as well as their members should cast aside their narrow political objectives and commit themselves to the country.

People should shed preconceived notions and dismiss totally baseless and unfounded statements about the budget clearly aimed at misleading them and I appeal to all to rally round to build a new and vibrant country"