Pro-Rajapaksa UPFA cabal returns to Abhayaramaya
Vasu pledges legal action if UPFA MPs violate mandate and sit in National Govt.
Weerawansa attacks Susil Premajayantha for being 'spineless', playing double games
Will form separate political front to uphold people's will: Wimal
By Dharisha Bastians and Chamodi Gunawardana

Small constituent parties of the United People's Freedom Alliance, strongly allied to former President Mahinda Rajapaksa, yesterday slammed the SLFP for agreeing to form a national unity Government with the UNP, saying it was a violation of the party's mandate received at last Monday's election.

NFF Leader Wimal Weerawansa, Pivituru Hela Urumaya Leader Udaya Nanayakkara and New Left Front Leader Vasudeva Nanayakkara returned to their old political hunting grounds at the Abhayaramaya temple in Narahenpita to address the media yesterday.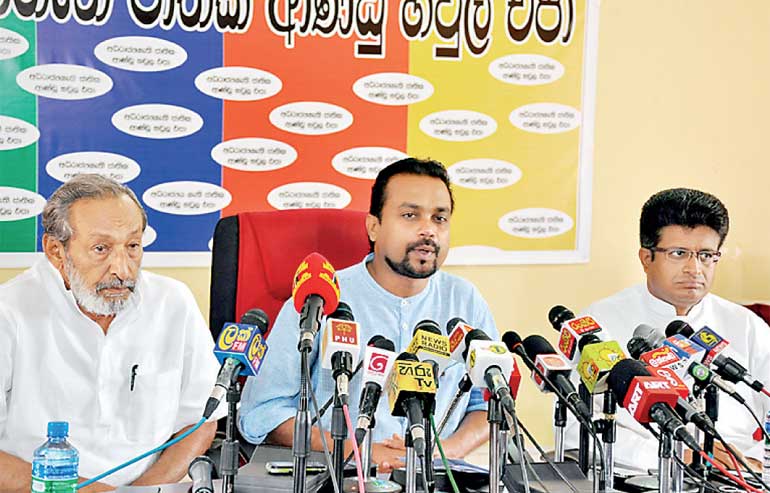 "We ask the people to demand the resignation of all those who violate their mandate by entering into this Government with the UNP. We will also pursue this matter legally," Nanayakkara said.

Weerawansa told reporters that the UPFA had achieved a good performance in last week's parliamentary election, obtaining 95 seats despite attempts by President Maithripala Sirisena to derail the party's campaign.

"They exhumed bodies, he wrote letters. The day before the election they reproduced advertisements reminding people that Mahinda Rajapaksa would not be given the premiership. After all that, it is a miracle the UPFA only lost one million votes since January 2015," Weerawansa said.

He said the Executive President of the country had acted in a manner that was clearly advantageous to one side in last week's poll.

Gammanpila asserted that the President had acknowledged that the UPFA had won the election in talks with SLFP members on Sunday night.

"He had told people that he had felt very unsafe by some statements being made by UPFA members on campaign stages, which is why he wrote those letters. So in other words, the UPFA had won the election and the President defeated the party," Gammanpila smirked.

Weerawansa said that if the UPFA was prepared to betray the mandate obtained on 17 August, their faction was willing to form a separate political force to ensure the people's will was represented.

The Rajapaksa loyalist also claimed that the former President's refusal to accept the position of Opposition Leader was just a personal opinion. "If the MPs make a request, we have no doubt he will consider," Weerawansa claimed. The NFF Leader also slammed sacked UPFA General Secretary Susil Premajayantha, calling him 'spineless' for now planning to accept ministries in the new Government. "We don't know if he was playing a double game, or a triple game," Weerawansa quipped.

Pic by Lasantha Kumara