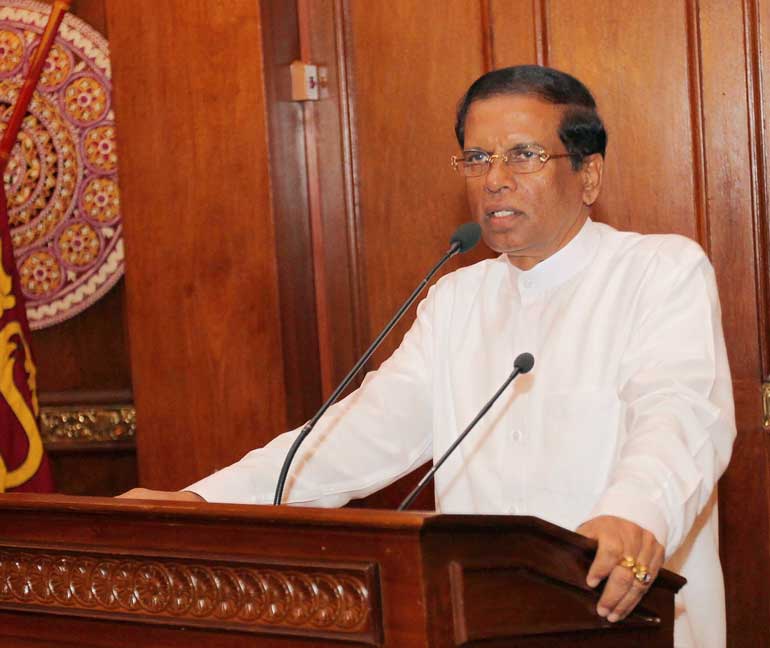 President Maithripala Sirisena on Thursday vowed to overcome any challenge thrown at him for the sake of the country and people.

Addressing school children at the Aranayake Rivisanda Central College at Ussapitiya in Mawanella, after opening its new Technical Laboratory Wednesday, Sirisena said he assumed duties as the President to meet all those challenges and he has the strength and the ability to face them.

Speaking further, President Sirisena said he would give priority to provide the basic needs of every school in the island. He said that there are reports about schools even without sanitary facilities.

"We will initiate a rapid program to provide required basic needs, in order to facilitate children to be engaged in their studies," the President said.

The President pointed out that priority should be given to skills development in the national education planning. He added that most countries in the world have achieved higher development through a proper vocational skills education.

President Sirisena stated that an island-wide program will be implemented within the next few weeks to educate children on the prevention of drug menace, which is a major threat to the society and preservation of the environment.

He also said a special program will be initiated to increase local food production in order to be self-sufficient in food. This program will be implemented after the forthcoming General Election. Also a national program is being planned for environmental conservation.

President Sirisena, after unveiling the plaque, declared open the new laboratory and made an inspection tour of the new facility which comprises a Nenasala Centre for Distance Learning, new Mathematics Lab, the Language Laboratory and Technical Laboratory.

The President also engaged in a cordial and friendly discussion with the students.

Deputy Minister Lalith Dissanayake and a group including Provincial Councillor Ananda Millangoda were among those present on the occasion.