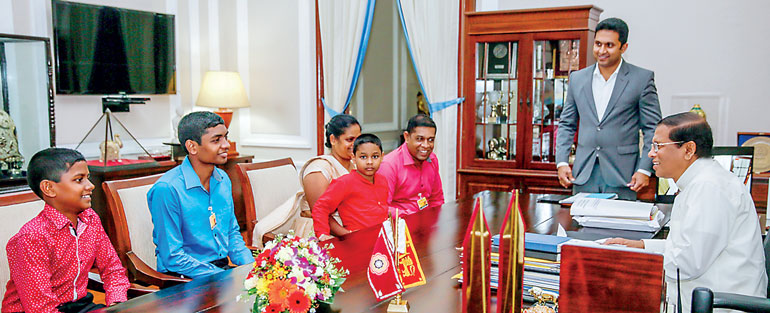 President Maithripala Sirisena yesterday met the student who hacked into his official website a few months ago, advising him to focusing on his future
President Maithripala Sirisena yesterday stressed the need to introduce a national policy with immediate effect to ensure welfare and security of the children.

Speaking at a special discussion held at the President's office this afternoon on the national program "Let's Protect the Children", the President said it is the duty of the adults to create a world where the children are secured.

The President highlighted that the government has paid serious attention on protecting the children. A special presidential task force has been set up in this regard.

The discussion also led on issues like eliminating child abuses, nutrition and welfare of them. He emphasized that the judicial cases involving children should be expedited and cause minimum harm to the children's mentality.

The school child who engaged in the incident of hacking the President's official website, also met President Sirisena today at the Presidential Secretariat.

The President offered the child, who is placed in probation under the purview of the parents, a special gift and wished him the success in his future studies.