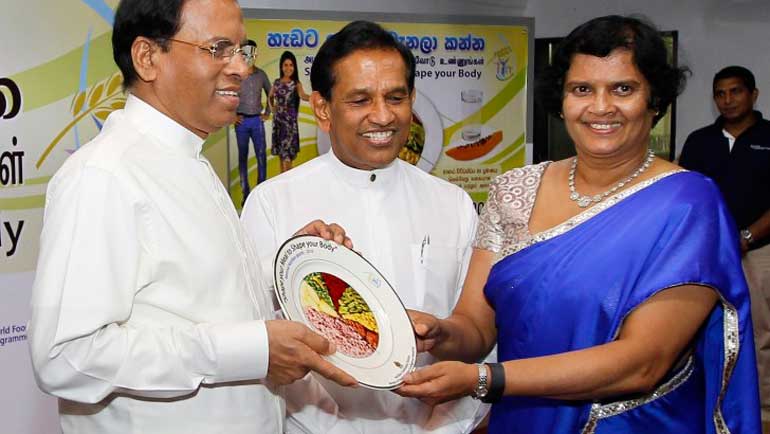 The national ceremony to declare the National Nutrition Month with the aim of uplifting the nutrition level of the citizens of Sri Lanka held under the patronage of President Maithripala Sirisena at the Sri Lanka Foundation Institute on June 06.

The public is moving away from a healthy diet as a result of this competitive society. People are rapidly changing towards fast food items. Specially, there is a trend of fast food among school children. According to the Ministry of Health, during the last two decades, obesity is rising rapidly amongst people and as a result of this situation the susceptibility to non-communicable diseases has increased.

Therefore, during the period of National Nutrition Month the public will be apprised regarding choosing food diversity and ways to cook preserving the best quality of food.

The main goal of this National Nutrition Month is to apprise the public regarding the exact amount of food that should be on the plate and the variety of food it should contain.

The Ministry of Health has organized a series of events during the National Nutrition Month and organizing television and radio programs, implement nutrition programs linking state and private institutions, organizing a Promotional Walk, holding a poster competition for school children and implementation of nutrition programs covering provincial and divisional levels are among the events organized by the Ministry.

Minister of Health, Nutrition and Indigenous Medicine, Rajitha Senaratne presented the Commemorative Edition, published to mark the National Nutrition Month to the President during the event.

Secretary to the Ministry of Health, Nutrition and Indigenous Medicine, Anura Jayawickrama, Director General of Health Services , Dr. Palitha Mahipala and many others participated in the event.