President Maithripala Sirisena has given instructions to the relevant Ministers and MPs to visit the areas affected by the recent adverse weather conditions, at least once a week to look into the welfare of the affected people and to ascertain their requirements.

During the Kegalle District Coordinating Committee meeting held at the Kegalle Town Hall, Wednesday 1 June the President inquired into the progress of the resettlement program implemented to resettle the people displaced by the recent landslides in the district, and instructed officials to expedite the resettlement process.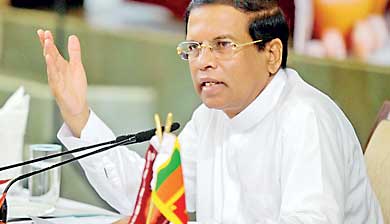 The President pointing out the importance of the Ministry of Lands and the Ministry of Plantation Industries working closely in the process of land identification for resettlement, instructed officials to expedite the land identification process and advised them to resettle the people close to their places of origin.

The President also pointed out the need for constructing houses to high quality standards and instructed the officials to appoint a Committee as well as to submit a report within three days in this regard.

President Sirisena stated that he will provide the funds required to deliver relief measures to all flood victims and further said that a resolution will be presented to the Cabinet to obtain approval to get the support of the Tri-Forces for necessary construction including houses, schools and hospitals.

Initiatives that the Government should take to uplift the livelihoods of affected people were especially discussed in detail during the meeting. Attention was also drawn to providing compensation for small and medium entrepreneurs.

Discussions also focused on the issue of the education of affected children and immediate relocation of schools in vulnerable areas.

Attention had been drawn to implementing a Joint Psychosocial Support Program with the support of relevant ministries for the benefit of the children of affected families and also to implementing a Joint Advisory Service for the benefit of affected adults.

During the meeting steps were discussed in detail that should be taken to develop the infrastructure facilities to restore the lives of the victims. The progress of the development programs implemented in the Kegalle district by the government, as well as future development plans, were also discussed at length.

Ministers Anura Priyadarshana Yapa , Lakshman Kiriella , Rauff Hakeem, S.B. Dissanayake , Sajith Premadasa , Ranjith Siyambalapitiya , Ministers and MPs representing the Kegalle district, Secretary to the President P.B. Abeykoon, Defense Secretary Karunasena Hettiarachchi and many others participated in the meeting.