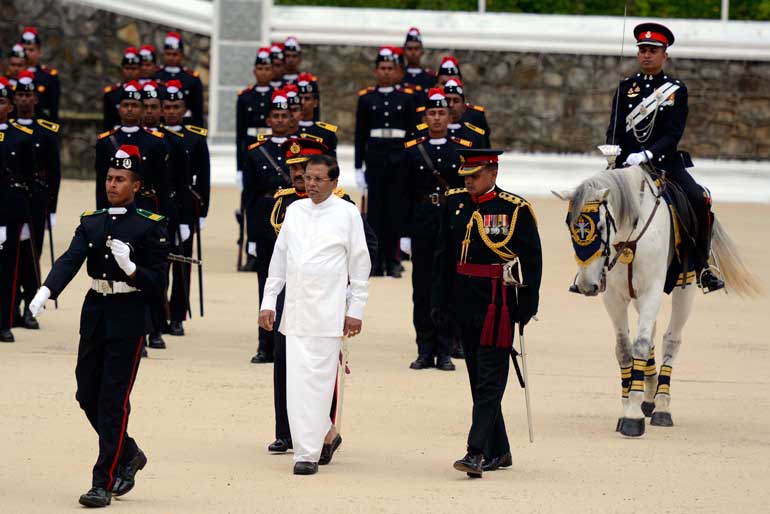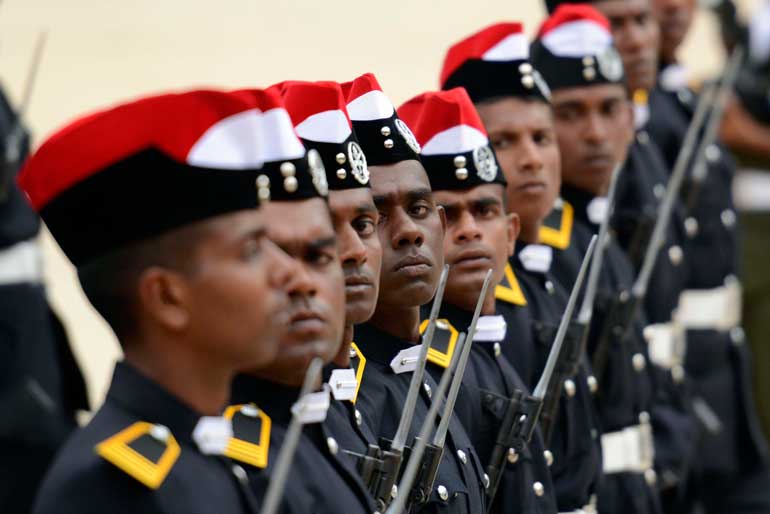 Sri Lankan Army Cadets march during a graduation ceremony for some 63 Army officers with President Maithripala Sirisena as Chief Guest in Diyatalawa on 27 June. Sri Lanka Army Chief Lef Krishantha de Silva is also present – Pix by Pradeep Pathirana
President Maithripala Sirisena on Saturday paid tribute to the war heroes who sacrificed their lives to protect the country's independence and territorial integrity and said the nation pays its tribute to them every day.

The President, in his capacity as the Commander-in-Chief of the Armed Forces, Saturday participated as the chief guest in the ceremonial passing out parade of officer cadets at the Sri Lanka Military Academy (SLMA) in Diyatalawa on Saturday (27).

He laid a floral wreath at the SLMA war memorial and honoured the memory of fallen service patriots in a solemn minute of silence.

President Sirisena presented the ceremonial award of the ornamental commissioning swords to the graduates, symbolising their formal commissioning in the Sri Lanka Army. The best achievers during graduation were also felicitated at the same occasion.

Addressing the passing out parade of 63 officer cadets, the President said the service of the security forces cannot be undermined at any circumstances.

He promised that all the due respect and recognition will be given to the security personnel whose unwavering commitment protects the country's independence and territorial integrity.

Currently, Sri Lankan security personnel are engaged in United Nations peace keeping missions at international level. The President pointed out that the UN recruits members of the security forces of a country for peace keeping missions if they have a good track record.
President entrusts Navy with eradicating drug menace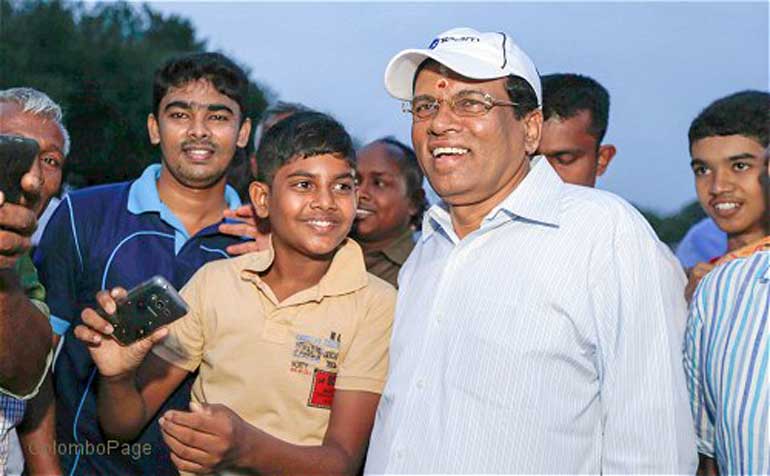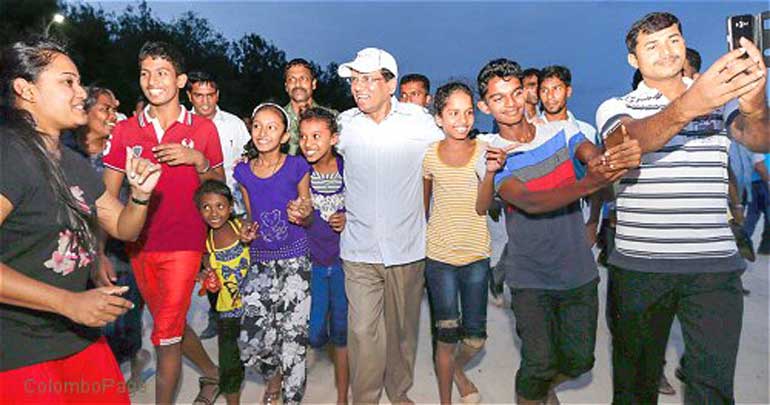 Sri Lanka Navy is vested with the huge responsibility of eradicating drug menace that plagues the society and protect the country from drug smugglers, President Maithripala Sirisena said.

Speaking at an event held at the Eastern Command Naval Base in Trincomalee Saturday, the President said the Navy must render its support towards establishing a national programme to prevent drugs entering into the country by sea route.

President Sirisena said that a special programme will be launched to protect the country's coastline with the assistance of the tri forces.

He said a special programme will be formulated to enable the members of the Sri Lanka Navy who are retiring from the force to enter the state service.

The President was the chief guest at the opening of the newly constructed two-storied building for the Naval and Ocean Science Faculty at the Trincomalee Navy Base.

Defense Secretary B.M.U.D. Basnayake, Commander of Navy Vice Admiral Jayantha Perera, other senior naval officials were also present at the occasion. During his visit to the eastern port city, the President, accompanied by his wife Mrs. Jayanthi Sirisena, also visited the Koneshwaran Hindu Kovil in Trincomalee. There the chief priest blessed the President after observing special religious rites.

Later the President visited the Nilaveli beach in Trincomalee and mingled with the public at the beach.