President Maithripala Sirisena, responding to criticism following his sharp comments on the Enrique Iglesias concert, yesterday reiterated his stance that he would not allow the country's culture to be destroyed by foreign cultures and values.

Addressing an event, the President said he "would not allow anybody who embraces alien cultures and give higher values for them to destroy the greatness of the motherland and our proud culture."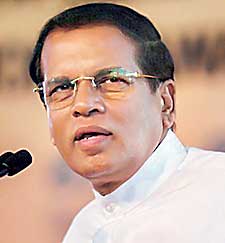 "I undertook the leadership of this country on January 8 with the objective of handing down a good and developed country for the future generation by safeguarding the culture and values with a proud history of thousands of years," he said.

The President made these remarks at the 'Shilpa - 2015' National Handicraft Award Ceremony held Tuesday at the "Ape Gama" premises in Battaramulla.

Hitting back at the critics, who ridiculed President's earlier statement that the organisers of the Latino singer's 'Sex and Love' concert should be whipped with a stingray tail, the President said that he was being disgraced for urging to protect the proud local culture and values.

"The ideas I expressed regarding the musical show of a foreign singer are now being used to disgrace me in the internet. Those who are doing this should remember that they are destroying their own proud culture and the pride of a great nation," the President said.

"To make the dream for rising as a great and valued nation by safeguarding our thousand years old proud culture, we should give higher significance for our values and heritage", the President said adding that the highest value of our culture is when it can be more powerful than the Law.

"All must unite in brotherhood to take our country forward to conquer the world through our innovative skills while protecting our heritage", the President said further.

President Sirisena on Sunday lashed out at the organisers of the Enrique Iglesias concert staged in Colombo week ago and declared that in the future his government will not allow indecent programs targeting the youth.

The President presented awards to the winners at this occasion and two award winners presented their creations to the President.

Minister of Industry and Commerce Rishad Bathiudeen, State Minister Champika Premadasa, and Secretary of the Ministry P.M.K.P Tennakoon also participated in this event.