President Maithripala Sirisena presided over a discussion on the progress of development programs in the Northern Province at the District Secretariat in Jaffna on Monday.
The discussion focused on development plans for the Northern Province. The President inquired into the plans formulated to utilise allocated money for development activities this year. He stated that political representatives and officials had the responsibility to spend those grants for the betterment of the people through proper development plans.

President Sirisena directed officials to swiftly provide essential facilities such as roads, health, education and drinking water to the people.
The process of resettlement was also discussed at the meeting.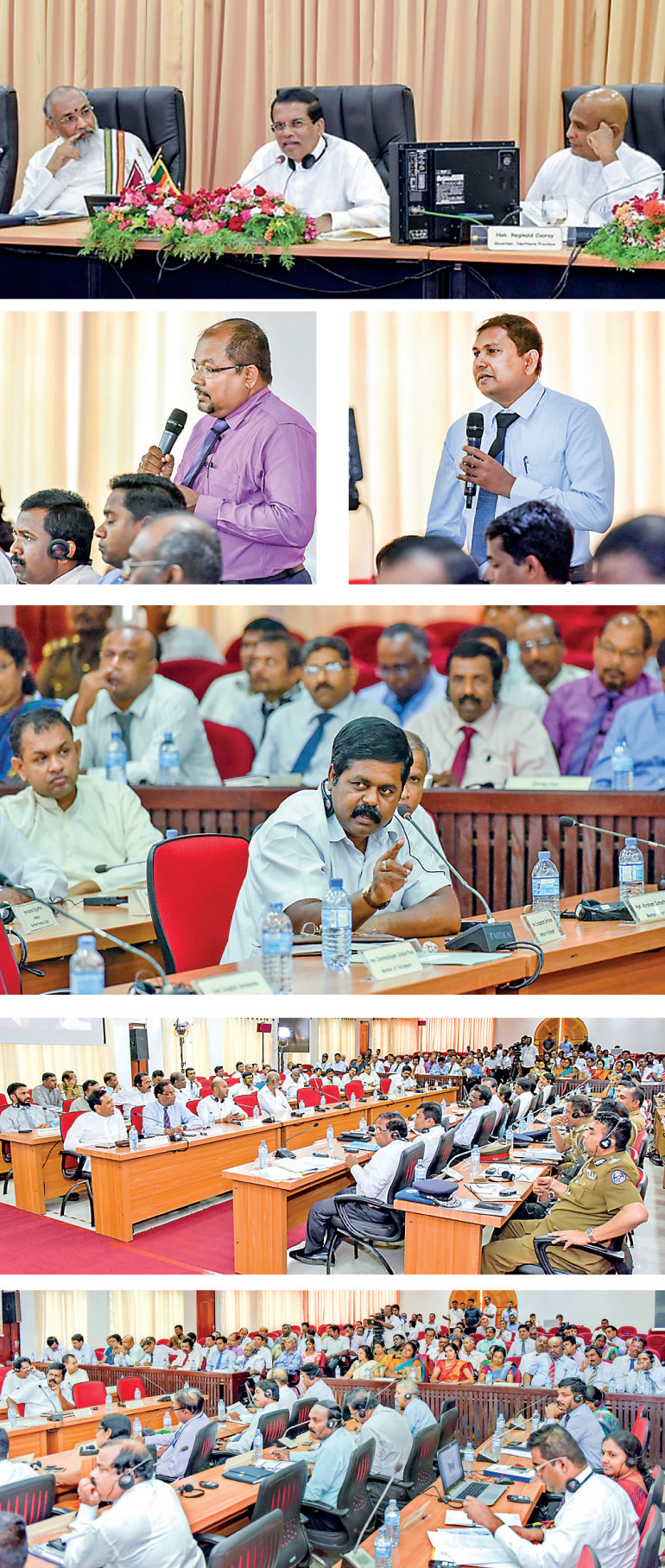 When a political representative pointed out that there was a problem getting sand for construction work, the President said he would direct officials to present recommendations to take sand and pebbles from certain areas of the country without damaging the environment.
The President said that he would give instructions to officials to appoint a committee comprising an Additional Secretary to the President, officials from the Environment Authority, Forest Department and Department of Wildlife Conservation in this regard.

The Chief Minister of the Northern Province C.V. Wigneswaran, Governor Reginald Cooray, Ministers Rajitha Senaratne, D.M. Swaminathan and Duminda Dissanayake, parliamentarians and public servants including the Jaffna District Secretary were present at this occasion.
President meets family members of missing persons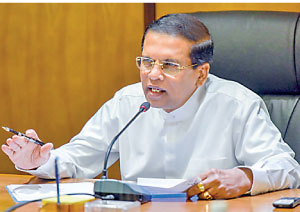 President Maithripala Sirisena held a discussion with the parents of the missing persons at the Northern Governor's Office in Jaffna on Monday.
A group of parents of missing persons representing all the eight districts of the North and Eastern Provinces handed over a letter to the President regarding their missing children.
President Sirisena listened to the grievances presented by some of the family members of alleged disappeared persons and promised that he would issue directives to the relevant authorities to make speedy inquiries into the issue. If any persons are under detention without charges, they would be released. But he clarified that there are no detention camps in the country. He also promised that he would instruct the National Security Council to release lists of persons who surrendered to the Armed forces in the final phase of the war.
When some persons alleged that their relatives were detained in some camps, the President immediately said that if they could identify any place, he would send police together with them to go into such camps and search.
The letter submitted by the relatives stated five key demands requesting the release of lists of all who surrendered to the armed forces, during and after the war, particularly during the last phase, a list of all secret detention centers, their status and list of detainees, and a list of all political prisoners held under the Prevention of Terrorism Act (PTA).
In August 2016, the government passed a Bill in Parliament to establish a permanent Office of Missing Persons (OMP) and the President has said that the parliament would debate on the OMP on 22 June.
Minister of Prison Reforms, Rehabilitation and Resettlement, D.M. Swaminathan, Minister of Health, Rajitha Senaratne, Chief Minister of the Northern Province, C.V. Vigneswaran , Provincial Minister of Health Saithyalingam, Governor Reginald Cooray, Inspector General of Police Pujith Jayasundara, and the SLFP General Secretary, Duminda Dissanayake were present at the meeting with the families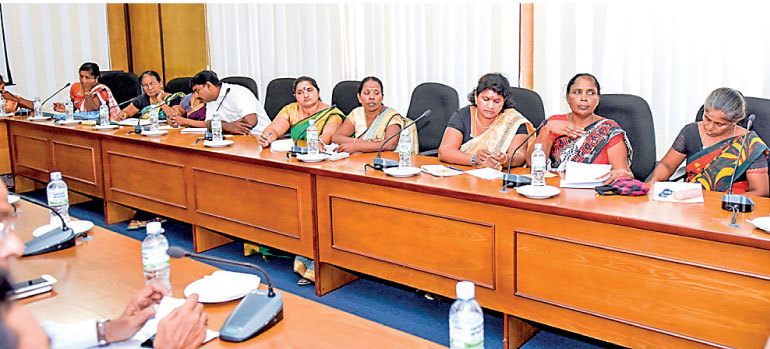 Earlier, speaking at a meeting to discuss development programmes in the North, the President said, "The State funds which are allocated for development projects in Northern and Eastern Provinces should be used effectively. Political leaders who represent these two provinces and the authorities should take full responsibility of that."