Somathilake questioned for over 10 hours
PRECIFAC awaits Government Analyst's report
Former Navy Chiefs summoned before PRECIFAC on 6 and 9 Nov.
By Shanika Sriyananda

The Anti-Corruption Commission grilled the former Navy Chief Admiral Somathilake Dissanayake for nearly 10 hours yesterday about weapons provided by Rakna Arakshaka Lanka Ltd. (RALL) to Avant-Garde Security Services Ltd., which is a private security services provider.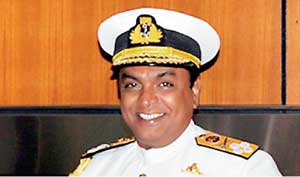 He arrived before the Presidential Commission of Inquiry to Investigate and Inquire into Serious Acts of Fraud, Corruption and Abuse of Power, State Resources and Privileges (PRECIFAC) to give a statement at 10 a.m. and was questioned for hours by Police investigators led by ASP Lalith Abeysekara and Chief Inspector Geethika Bodhipaksa.

PRECIFAC Secretary Lacille De Silva told the Daily FT that he was questioned over the evidence given by a former Additional Secretary of the Defence Ministry Damayanthi Jayaratne who had accepted that firearms were issued to RALL violating the proper legal procedures.

Ex-Navy Chief Dissanayake was questioned based on Jayaratne's statement and other evidence given by those who were grilled previously with regard to allegations over RALL.

Somathilake, the youngest brother of veteran Film Director Somarathne Dissanayake, was a consultant of the private security firm Avant-Garde Security Services.

Meanwhile, the PRECIFAC five-member investigative team led by Chief Inspector Ranjith Rajapaksa which inspected the MV Avant-Garde vessel at the Galle Port last week had requested a report from the Government Analyst.

According to the PRECIFAC Secretary, the investigators had conducted an 'on board' investigation to verify the connection between MV Avant Garde and RALL.

He said that the Government Analyst had visited the vessel at Galle Port on Tuesday and PRECIFAC was waiting for his report to continue investigations.

On 6 October, the Sri Lanka Navy detected 810 weapons on board MV Avant-Garde at the time of its detection at sea some 12 nautical miles off Galle.

He said that the PRECIFAC Police team had got a count of weapons and ammunitions on board the vessel during their inspection.

De Silva said that former Navy Commanders Admiral Jayantha Perera and Admiral Jayanath Colombage would be summoned before PRECIFAC on 6 and 9 November respectively.

Former Defence Secretary Gotabaya Rajapaksa, top RALL officials and present RALL Chairman Victor Samaraweera were also summoned before PRECIFAC previously over allegations against RALL.