Prime Minister Ranil Wickremesinghe has assured that the Government will implement development projects in the Anuradhapura district while protecting the national heritage sites.

The Prime Minister, who is on an observational tour in Anuradhapura, performed religious rites at several sacred sites in the district including Ruwanweli Seya, Sri Maha Bodhi, Mirisawetiya and Thanthirimale Raja Maha Viharaya.

The Prime Minister called on the Chief Prelate of Atamasthanaya Pallegma Siriniwasa Thera and informed him of all the development projects the Government has planned for the area. He explained the ways that development projects would attract more tourists to the area and the plans to protect the culture.

The Prime Minister, who visited Chief Prelate of Ruwanweli Maha Seya Pallegama Hemarathana Thera, explained to him about the lower Malwathuoya Irrigation Scheme.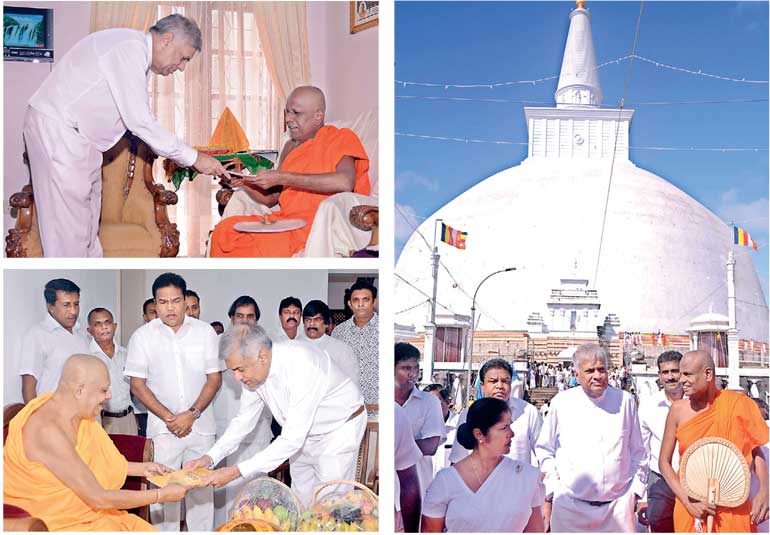 He assured the Chief Incumbent of the Thanthirimale Raja Maha Viharaya that all development projects in Anuradhapura District would be conducted without any damage to national heritage sites in the area.

Prime Minister Wickremesinghe also visited the Anuradhapura Sarananda Maha Pirivena and met the Chief Priest of the Pirivena and Anunayaka of Ramannaa Nikaya Girambe Ananda Thera. The Premier called over on the Registrar of Mirisawetiya Raja Maha Viharaya Eethala Wetunawewe Gnanatilaka Thera.

Minister Chandrani Bandara and several parliamentarians accompanied the Prime Minister on his tour.

Pix by Pradeep Pathirana