By Chamodi Gunawardana

The Pivithuru Hela Urumaya (PHU) yesterday requested the public who reject the current administration to hoist a black flag in front of their houses between 2-8 January.

The PHU Leader and MP Udaya Gammanpila claimed if they were afraid to do so because of the recent "trend of black defender abduction," they could at least change their Facebook profile picture to a black flag to express their resistance against the Government.

"We expect to hold a black flag week 2-8 January while the Government is celebrating its first anniversary. We invite all progressive people to hold hands with us," Gammanpila noted.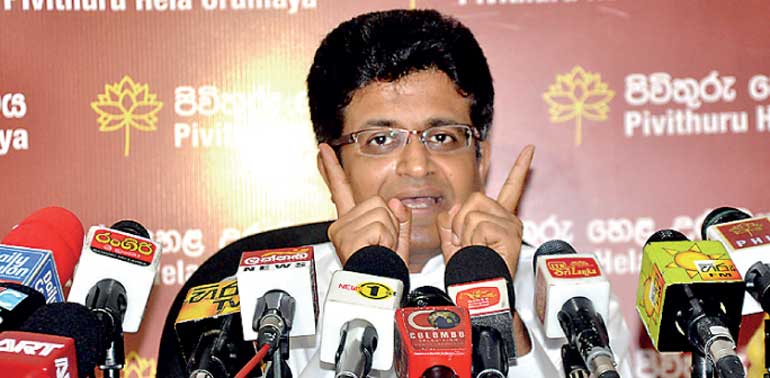 Pivituru Hela Urumaya leader Udaya Gammanpila at the media briefing yesterday - Pic by Shehan Gunasekara


He also said the time has come to end the current administration to pave the way for a better country.

"People voted swan with many hopes but ultimately they got nothing. We should not continue the clash which we had between swan backers and Rajapaksa backers. Those separate supporters must gather to remove this failed Government," Gammanpila claimed.
Gammanpila to file a case against Hirunika on Thursday
The Leader of Pivithuru Hela Urumaya (PHU), MP Udaya Gammanpila yesterday said he would file a case against MP Hirunika Premachandra demanding Rs.500 million of compensation on Thursday.

He said that compensation would be demanded as damages for allegedly making defamatory remarks of him by her on a television program telecast last 2 July.

Previously Gammanpila had sent a letter of demand to Hirunika, but she had to date failed to send a reply.