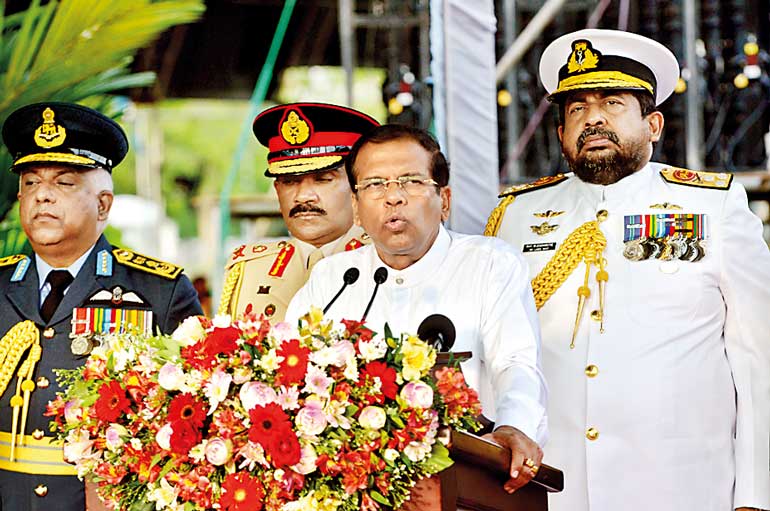 President Maithripala Sirisena said yesterday that the people who put the war heroes into jail those days are now making allegations that the government is getting ready to hunt war heroes.

The President was speaking at the national ceremony to commemorate war heroes, held at the War Hero Monument in the Parliament premises in Battaramulla.

He stated that the government will always perform to commemorate the valiant war heroes who sacrificed their lives for the sovereignty of the motherland. He also recalled that the government is committed for the welfare of the families of the disabled war heroes.

He pointed out that the people elected the new government on January 08 with the expectation of fulfilling of the responsibilities in a post war era by preventing another war in this country.

"The new government is now working for fulfilling the responsibility to prevent another war in the country through strengthening of the national reconciliation", he said.

"It is not an easy task to unite the hearts of the people while fulfilling of the responsibilities of a post-conflict era after ending the war physically. Politicians, war heroes and the people of the entire country should get together to strengthen the reconciliation process", the President said.

President Sirisena paid the floral tribute to the War Heroes Monument at this occasion.

Clergy including Maha Sanga, Prime Minister Ranil Wickremesinghe, Field Martial Sarath Fonseka, Chief of the Defence Staff, Commanders of Tri Forces, Inspector General of Police, Chairperson of the Ranaviru Seva Authority Anoma Fonseka and the close relatives of the war heroes participated in this ceremony.