A Parliamentary Select Committee headed by Deputy Speaker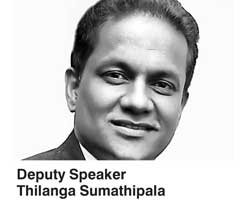 Thilanga Sumathipala has been appointed to make recommendations to ensure Sri Lanka is able to meet the United Nations 2030 Agenda for Sustainable Development, Speaker Karu Jayasuriya announced yesterday.

The committee comprises parliamentarians Gamini Jayawickrama Perera, V.S. Radhakrishnan, Niroshan Perera, Ruwan Wijewardene, Sumedha G. Jayasena, Anuradha Jayaratne, Bimal Ratnayake, Abdullah Mahroof, Buddhika Pathirana, Dr. Ramesh Pathirana, E. Saravanapavan, Dr. Nalinda Jayatissa, Rohini Kumari Wijeratne and S. Viyalenthiran.

Sri Lanka has endorsed the UN Sustainable Development Goals which have laid out an intersectoral framework connecting the economic, social and environmental features of sustainable development.

Since Parliament is actively pursuing these goals through its lawmaking, budgeting and oversight functions, it appointed a Select Committee for this purpose. The committee is tasked with formulating national policies and drafting laws in consultation with relevant line ministries, allocating adequate domestic resources, finding international funding resources, coordinating with the Government and implementing agencies and formulating networking measures at the national, provincial and local levels.