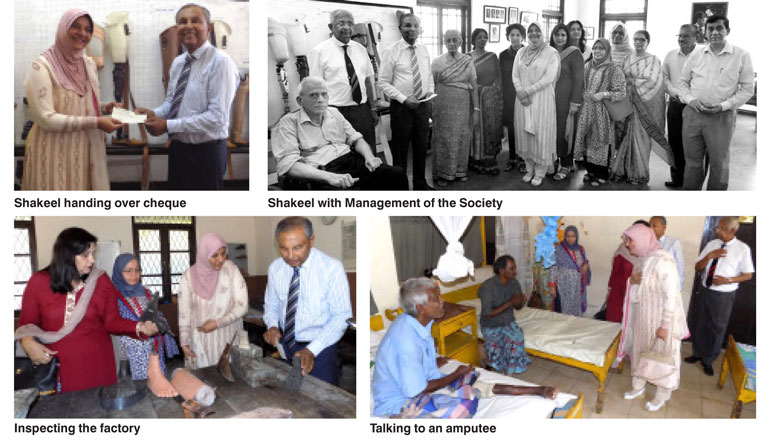 A delegation from the Pakistan Women's Association of Sri Lanka (PWA) visited the oldest charitable organisation in Sri Lanka yesterday to extend support for physically disabled Sri Lankans.

The PWA outreach project was aimed to assist physically challenged individuals with provisions of prosthetic, orthotic and orthopaedic appliances to overcome their disabilities. The project will be implemented through the Friend-in-Need Society.

President of PWA Syeda Asghari Shakeel presented a cheque of Rs. 0.15 million to President of the Friend-in-Need Society Nihal Abesekera to contribute in their endeavours to physically, economically and socially rehabilitate the disabled.

Speaking at the event, Shakeel said that the Colombo Friend-in-Need Society has been rendering remarkable services for the rehabilitation of the deserving physically disabled people by enabling them to regain their mobility and dignity and to become self-respecting and productive members of society.

Shakeel urged the local as well as international communities to extend their support to the Society for humanitarian assistance to the disabled people.

During the ceremony, the management of Friends-in-Need briefed the PWA delegation on the activities being carried out by the Society. Dr. J. K. S. Weerasekera informed Shakeel that in October this year the Society will organise a sporting event among the amputees. Shakeel accepted Dr. Weerasekara's invitation to attend this event.

The Colombo Friend-in-Need Society was established in 1831 under the Patronage of then Governor Sir Edward Barnes. For the past 183 years, the Society has been engaged in providing humanitarian assistance to the disabled and the needy of Sri Lanka. It also runs a prosthetic/orthotic workshop in central Colombo, where disabled persons come in to get custom-fitted artificial limbs.

During the massive earthquake in Pakistan in 2005, the Colombo Friend-in-Need Society in collaboration with the UK Rehab Trust International set up a prosthetic centre in Abbotabad to fabricate and deliver artificial limbs to those affected by the earthquake.