By Chamodi Gunawardana

Pro-Rajapaksa Parliamentarians yesterday accused former President Chandrika Bandaranaike Kumaratunga of attempting to play 'divide and conquer politics' in order to split the Sri Lanka Freedom Party (SLFP) and United People's Freedom Alliance (UPFA) while increasing Prime Minister Ranil Wickremesinghe's power.

SLFP Parliamentarian Dullas Alahapperuma claimed that Kumaratunga would do anything to separate the SLFP and UPFA.

"Kumaratunga's main target is to divide SLFP and she is plotting that together with Prime Minister Ranil Wickremesinghe. We believe that Kumaratunga and Wickremesinghe have held a secret agreement for the last five years to split SLFP and UPFA.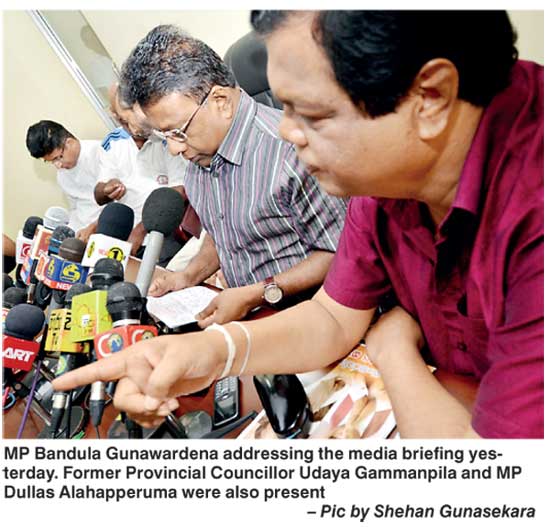 However she must understand that now she is a retired politician; not an activist," Alahapperuma told reporters. Commenting on the "Bring Back Mahinda" rally recently held in Matara, Alahapperuma charged that the 'Yahapalana' Government had tried to sabotage the rally – an accusation frequently leveled against the SLFP and UPFA during their last tenure in Government.

"We believe the Matara Rally was the largest political rally held in Sri Lanka and thousands of people gathered there. However the Government put limitations on speakers through the Police. They disconnected the water and power supplies too," Alahapperuma alleged.

Meanwhile, SLFP Parliamentarian Bandula Gunawardena repeated allegations that Central Bank Governor Arjuna Mahendran had violated Sri Lanka's constitution by placing his signature of Rs. 5,000 currency notes while holding dual citizenship.

"The new Rs. 5,000 notes are signed by a Singapore citizen and according to the constitution we believe it is wrong. Only Sri Lankan citizens can sign local currency notes, others cannot. We are expecting to take legal actions against this currency note. We must be careful about using these newly signed notes," Gunawardena stated.

Meanwhile, commenting on the state of the Sri Lankan economy, UPFA MP Vasudeva Nanayakkara accused the Cabinet sub-committee appointed to analyse the cost of living in Sri Lanka of sleeping through an economic crisis despite inflation hovering at 0.2% this May, up from 0.1% in April 2015.

"The Government appointed a cabinet subcommittee to work on cost of living but the committee did not do anything for the Sri Lankan economic crisis. This crisis has influenced Sathosa and the co-operative outlets. We believe Finance Minister Ravi Karunanayake wants to close all the Sathosa outlets like he did before," Nanayakkara alleged.

Concluding the media briefing, Provincial Councilor Udaya Gammanpila sought to cast doubt on the appointment of Prime Minister Ranil Wickremesinghe.

"Former Prime Minister D. M. Jayaratne did not resign from his position and President Maithripala Sirisena did not remove Jayaratne either. Accordingly there was no vacancy for the position. We believe Jayaratne is the real Prime Minister according to the constitution, not Wickremesinghe," Gammanpila asserted.