Says civil society strengthens democratic practice

The Open Society Foundations, a global philanthropic group operating in over 100 countries, has announced plans to support work in Sri Lanka. By working with local civil society and other actors, the Open Society Foundations will seek to bolster democratic reforms already underway in Sri Lanka and promote economic advancement.

"It is an exciting and critical moment in Sri Lanka's difficult history, and we welcome the opportunity to support civil society and Government efforts to promote democratic reforms, respect for human rights and good governance," says Chris Stone, President of the Open Society Foundations.

The Open Society Foundations, founded in 1984 by financier George Soros, works to build vibrant and tolerant societies whose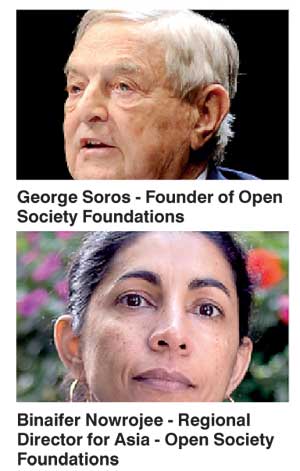 governments are accountable and open to criticism, whose laws and policies are open to debate and correction and whose political institutions are open to the participation of all people.

The Open Society Foundations seek to strengthen justice and the rule of law; broaden respect for human rights; support minorities; encourage pluralism and diversity of opinion; deepen democratic practice and participation; expand economic justice and enable effective governance. The Open Society Foundations work on a range of issues including education, health, independent journalism, justice, freedom of expression and minority rights.

"We are encouraged by the rapid progress in Sri Lanka and look forward to working alongside civil society and the government in the years ahead," says Binaifer Nowrojee, regional director for Asia at the Open Society Foundations.