"No one will be allowed to hide behind laws, rights or privileges to promote indiscipline or promote misbehaviour," said President Maithripala Sirisena, participating at the annual prize giving ceremony of Asoka Vidyalaya held at the BMICH on Monday.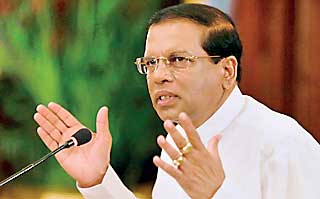 Recalling the recent incident in a school where a student brought a mobile phone which had indecent content to the classroom, he re-emphasised that laws, rights and privileges should not be a cover for promoting indiscipline and inappropriate behaviour in the country.

President Sirisena said he would stand up for the teacher who had to face difficulties by trying to correct the students for their own future's sake. "A special inquiry will be held into the alleged incident," he added.

Recalling the stern punishments students received from teachers in his day, the President urged both parents and students not to use rights and privileges in modern-day society in a wrong way.

President Sirisena was ceremoniously received by the Principal Y. Yasarathna and the staff of the school. The scouts of Asoka Vidyalaya accorded a Guard of Honour to the President.

The President also presented awards and prizes to students while two teachers of the school were felicitated for reporting to work without taking any leave.