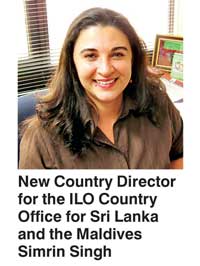 Simrin Singh officially took over as the new Country Director for the ILO Country Office for Sri Lanka and the Maldives on 1 April.

Singh, who is a national of the USA, has been an ILO staff member since 2000. Since then she has held various positions at different ILO offices as well as at the ILO headquarters in Geneva. Her most recent post at the ILO, held between 2008 and 2017, was as a Senior Specialist on Fundamental Principles and Rights at Work based at the ILO Regional Office for Asia and Pacific in Bangkok, Thailand.

Singh holds a bachelor's degree in Anthropology and Sociology from Connecticut College in the US and a master's degree in International Development Studies from The George Washington University, US.