President Maithripala Sirisena has appointed Marini de Livera the new Chairperson of National Child Protection Authority (NCPA) following the resignation of former Chairperson Dr. Natasha Balendra due to personal reasons.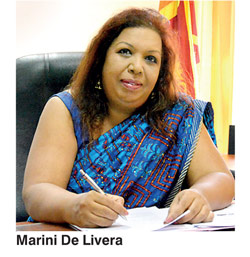 De Livera is an Attorney-at-Law and holds a Postgraduate Diploma in Human Rights and a Master's in Law in Public Law and Human Rights. She is also a Licentiate Teacher in Speech and Drama of Trinity College London.

She has functioned as an academic teaching Constitutional Law, European Law, International Human Rights Law, International Criminal Law and Public International Law in the UK, Sri Lanka and the Republic of Seychelles.

De Livera has been a human rights trainer for the Sri Lanka Army and Police.