Former President Mahinda Rajapaksa yesterday urged the police to pay close attention to the protests taking place in Jaffna, saying that similar actions had given rise to the LTTE.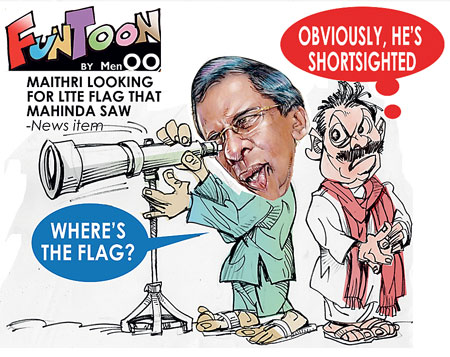 Speaking to the media after his visit to the Samadhi Buddha statue in the town of Mahiyangana, Rajapaksa said: "Stones were pelted at police stations and the courts in Jaffna. The LTTE too began in a similar fashion. This is a dangerous situation. Therefore the police should act immediately. The law should take its course in a similar manner whether it is the North or South of the country."


Of late Rajapaksa has fuelled fear and foreboding over the resurgence of the LTTE, a position he habitually adopted during his tenure as President. Recently he alleged that he spotted an LTTE flag at a remembrance ceremony held in the north of the country to honour those who perished in Sri Lanka's civil conflict. His claim though was roundly refuted by President Maithripala Sirisena, who quipped: "I am not sure whether the so-called LTTE flag was waved at only Mahinda Rajapaksa or whether only he could see it. I must use my glasses to confirm whether it is so."
---
Over 100 protesters remanded over Jaffna court clash
The 130 suspects arrested on charges of unlawful assembly, damaging public property and assaulting police officers near the Jaffna Magistrate's Court were remanded yesterday.


Reports revealed that the suspects were produced in court in three groups, after having been separated according to their respective charges. These charges range from them having caused damage to the court premises and vehicles parked nearby to assault on the police personnel on guard duty. Police said that 47 suspects were remanded until 1 June, while the remaining two groups of 43 and 40 protesters were detained in remand custody until 3 and 4 June respectively.


A large group on Wednesday staged a protest outside the Jaffna court demanding that the nine suspects, arrested over the gang rape and murder of an 18-year-old student in Punkudithivu, be sentenced to death.