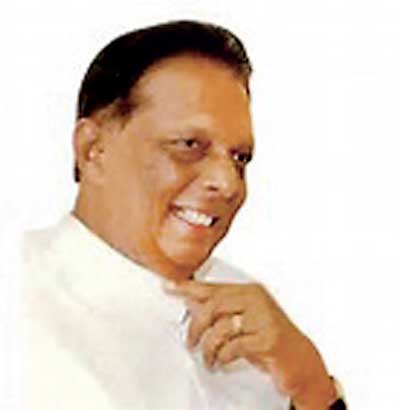 Minister of Tourism, Christian Affairs and Lands John Amaratunga, completed 50 years as a lawyer in July 2016. He is an Attorney at Law, Notary Public, Justice of the Peace & Unofficial Magistrate (JPUM). His father late L.P.Amaratunga had an illustrious legal career practicing in the Courts of Gampaha and his elder brother late Collin Amaratunga following in his father's footsteps.

John Amaratunga had his secondary education at De Mazenod College, Kandana and St. Joseph's College Colombo and thereafter joined Aquinas University College in Borella. Successful in entering Law College he passed out as a lawyer being called to the Bar in July 1966. He chose to practice at the Negombo Courts. His legal background and administrative promise led him to be appointed as Chairman of the Leather Corporation in 1977, a failing entity which he soon transformed into a viable venture which displayed his potential.

John Amaratunga was invited by late J.R Jayewardene into the political arena to fill the vacuum for an educated young representation in Parliament needed by the United National Party leadership and was nominated to Parliament as an MP in October 1978. His entry to parliament is historical for he goes on record to become the first nominated Member of Parliament under new electoral laws that was enacted during the presidency of J.R. Jayewardene. Continuing since then he is undefeated in his parliamentary representation for the last 38 years.

It is due to his steadfast leadership as the Chief Organiser of the United National Party of the multi- ethnic Wattala electorate that the party held the seat at almost all elections, whether Presidential, Parliamentary, Provincial Council or Local Government successfully.

John Amaratunga was State Minister of Finance from 1987 to 1989. He was Minister of State for Foreign Affairs from 1989 to 1994 and as State Minister of Foreign Affairs he introduced the concept of a Bilateral Cooperation Unit linking foreign missions with different state agencies, including BOI, operating independently, to facilitate a concerted and combined effort to enhance garment exports and trade.

He was appointed Subject Minister for Provincial Councils in March 1990, a Ministry set up with the 13th Amendment to the Constitution. Concurrently after the death of Ranjan Wijeratna he was entrusted with the position of de-facto State Minister for Defence by then President Premadasa, requiring regular visits to the battle-torn areas in the North and East to monitor welfare facilities for the troops. John Amaratunga was elevated to Cabinet rank by President D.B.Wijetunga with the portfolio of Minister of Home Affairs and Provincial Councils in August 1993. As the Minister for Home Affairs it was his task to oversee devolution of state administrative power to establish Divisional Secretariats throughout the country, which he successfully achieved.

John Amaratunga was the Cabinet Minister of Interior and Christians Affairs from December 2001 to 2004. The Police Department, one of his primary concerns, benefited from his aim of modernisation and expansion. He came down hard on drugs and narcotics. He established new police stations in different parts of the country prioritising neglected areas which included the North and East after the peace accord. He introduced the model police station concept and providing modern facilities setting up a coordinated network. As the subject minister he introduced a new passport series preventing forgery and made the one-day passport service a reality. He extended the one-day service to the issue of National Identity Cards as well. Adopting a humanitarian approach, he contributed in bringing about a meaningful change in the prison environment with an emphasis on rehabilitation of prisoners. John Amaratunga was also the first Chairman of the Committee of Public Enterprises (COPE) for 10 continuous years and functioned as the Chief Opposition Whip in Parliament from 2010-2015.

John Amaratunga has been the Acting Leader of the UNP, Acting Opposition Leader, Vice-Chairman of the United National Party and is a long standing Member of the Working Committee. He was the Secretary General of the National Trade Union Federation and Chairman of Jathika Sevaka Sangamaya (JSS) the trade union arm of the UNP. He was also the Chairman of the UNP Professional Group /Overseas Membership Development..

John Amaratunga currently is the second senior most parliamentarian next to Prime Minister Ranil Wickremesinghe in the current parliament and is the Minister for Tourism Development, Christian Religious Affairs and Lands.