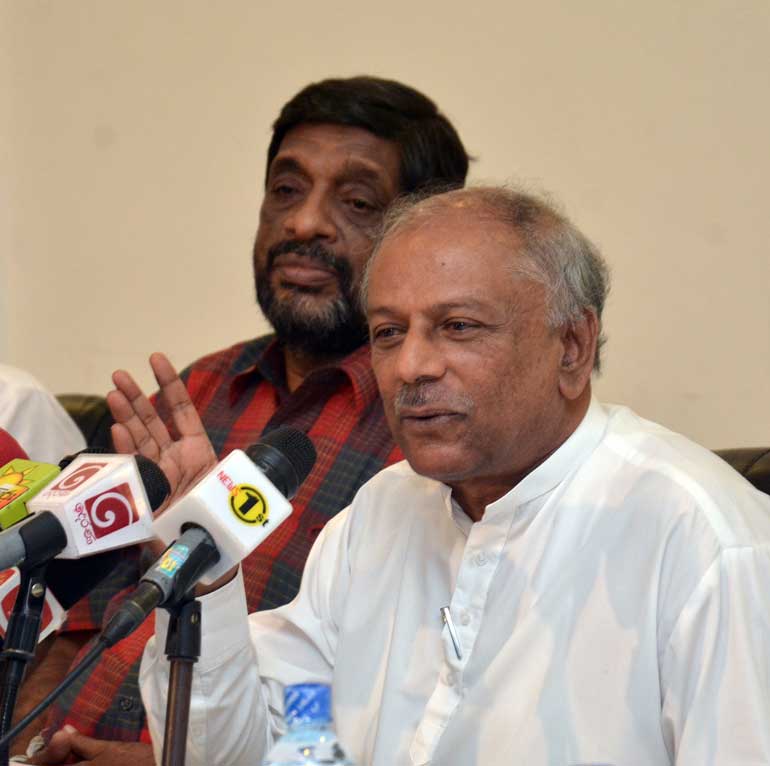 By Chamodi Gunawardana

The Mahajana Eksath Peramuna (MEP) yesterday claimed that the United People's Freedom Alliance's (UPFA) newly-submitted National List was an insult to the Parliament.

Criticising the list, MEP Leader Dinesh Gunawardena alleged that the Sri Lanka Freedom Party's (SLFP) current leaders had submitted a new list which differed from the pre-gazetted one.

"The UPFA had gazetted its National List nominees before the election and there were 29 names representing constituent political parties. However, soon after the election, the SLFP's present leaders suddenly changed the list. We believe that this was the biggest insult to our respectable Parliament," he charged.

"The UPFA is an alliance which is formed of a number of constituent political parties. Therefore, constitutionally all these parties have an equal right to be represented in Parliament. However, the newly-drafted list has removed old political parties such as the Communist Party, the Liberal Party, the National Freedom Front and the Lanka Sama Samaja Party," he stressed.

Gunawardena also claimed that the MOU signed between the current SLFP General Secretary and the United National Party (UNP) over a National Government was invalid.

"The new SLFP General Secretary has taken this decision without the approval of constituent parties. Therefore, the MOU is not valid. However, we emphasise that the UPFA will never form a National Government with the UNP," Gunawardena stated.
Premajayantha destroyed UPFA: Dinesh
Attacking former UPFA General Secretary Susil Premajayantha, MEP Leader Dinesh Gunawardena yesterday alleged that Premajayantha had politically destroyed the UPFA.

"Premajayantha has treated the party's National List as his private property. He has automatically signed the newly drafted list without our involvement. We would like to remind him that he has no right to make changes to any decision which we made collectively," Gunawardena charged.

Gunawardena further claimed that Premajayantha was too late to resign from the position of SLFP General Secretary.

"Premajayantha promised us several times that he would never make any decisions without our approval. However, after the submission of the new National List, he disappeared. We cannot contact him yet and we are suspicious of his current behaviour. Premajayantha should have resigned before," Gunawardena asserted.
MEP's Chandrasiri files FR petition against UPFA National List
MEP Vice Chairman Somaweera Chandrasiri yesterday filed a Fundamental Rights (FR) petition in the Supreme Court seeking an order to suspend the gazette notification naming the 12 UPFA National List nominees appointed to Parliament.

The petition was filed under FR NO. 338/15 and Chandrasiri also requested an order that his fundamental rights protected by the Constitution had been violated. He was a nominee of the UPFA pre-gazetted National List.