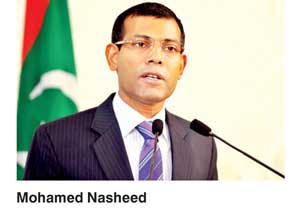 Reuters: A Maldives court has sentenced an Islamist opposition leader to 12 years in jail, convicting him on terrorism charges related to a speech that protested the imprisonment of the islands' first democratically elected president, Mohamed Nasheed.

Best known as an exotic tourist destination, the Indian Ocean archipelago has been roiled by political unrest since Nasheed was ousted in disputed circumstances in 2012.

In March last year, he was arrested, charged under terrorist laws, and sentenced to 13 years for ordering the abduction of a judge, following a rapid trial that drew international condemnation.

Under pressure from foreign governments, President Abdulla Yameen's government released Nasheed last month to let him seek medical treatment in London.

Late on Tuesday, however, a court sentenced Sheikh Imran Abdulla, the leader of Islamist Adhaalath Party, to 12 years for comments he made in an anti-government speech during a mass protest against Nasheed's arrest on May Day last year.

The government said Imran was charged for urging protesters "to confront police", something the politician's lawyer denied.

"We believe the judgment is grossly unfair because he has not called for violence in his speech," Imran's lawyer Husnu Suood told Reuters.

"He clearly asked the participants at the rally to refrain from violence and had taken all steps to prevent violence."

Clashes between protesters and police broke out at the May Day demonstration in the capital, Male, and hundreds of protesters were arrested.

"No country in the world would condone such a call for violence," Abbas Adil Riza, the deputy high commissioner for Maldives in Colombo told Reuters.

The sentencing of the Islamist politician comes days after President Yameen called on the opposition parties to end a standoff with his own party amid rising international pressure.

Adhaalath Party Spokesman Ali Zahir said the sentencing demonstrated the absence of good faith from the government's side in the inter party talks.

Since his release, Nasheed has called for sanctions against Yameen and his allies for detaining political prisoners, mainly opposition leaders.