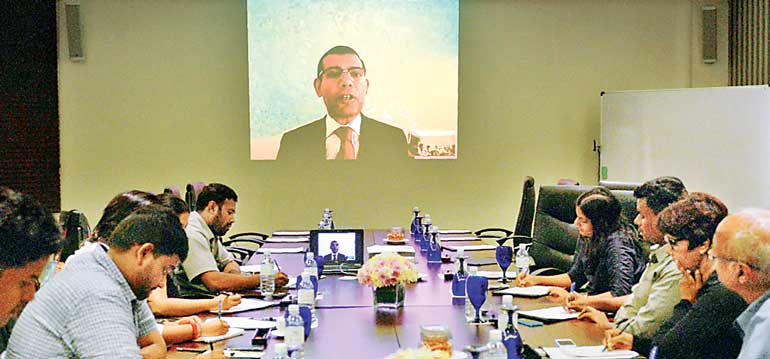 In this photograph taken on 13 September 2016, exiled Maldives opposition leader, Mohamed Nasheed addresses Sri Lanka-based foreign correspondents via video link, in Colombo - AFP
By Dharisha Bastians

The united opposition of the Maldives will look to the Sri Lanka's 'rainbow revolution' model in its struggle to depose the Government of President Abdulla Yameen and restore democracy in the Indian Ocean archipelago, because the system had delivered, exiled former President Mohammed Nasheed said Tuesday.

"The basic elements and the basic ideology of the restoration of democracy in Sri Lanka – we must study that. We must use that," ex-President Nasheed told foreign correspondents in Colombo via video conference.

Nasheed, who is leading an alliance of opposition parties seeking to oust President Yameen, said it was not clear if the Maldives could also bring about change through an election, as Sri Lanka did on 8 January 2015. "I don't know if we can do that," Nasheed told reporters, "but I think we should consider the Sri Lanka model. It has delivered, and we must work on that."

Political parties in the Maldives, many of them now opposed to President Yameen's administration which is seen as increasingly authoritarian, have already grasped the potential of forging alliances – however unlikely – against a common political enemy. The 2015 presidential election in Sri Lanka saw the construction of a similarly unlikely alliance united only its interest in unseating former President Mahinda Rajapaksa.

As part of this process, Nasheed says he is working with his former rival ex-President Maumoon Abdul Gayoom, to unseat the Maldivian President.

Nasheed, who was forced to resign as President in 2012 after a security forces mutiny, has always blamed Gayoom for triggering his political collapse. During strongman Gayoom's 30-year rule, Nasheed was repeatedly jailed for being critical of the regime.

Now Nasheed says the pair is ready to bury the past. "We are now willing to work together," said Nasheed by video conference. "How can you win a future if you keep running after the past?"

Former President Gayoom was necessary and essential to the future, Nasheed asserted, adding that his former rival's contribution to restoring democracy in the Maldives could "save his own legacy".

International pressure is mounting on the Government of President Yameen, whose regime has recently led a crackdown on critics and opposition members, manipulated the judiciary and enacted draconian laws on defamation to muzzle the press. Last week, an explosive Al Jazeera documentary 'Stealing Paradise' revealed massive corruption at the highest levels of the Maldivian Government, including a $ 1.5 billion money laundering plot.

"I believe that President Yameen's days are numbered. His legitimacy is shot; his reputation is in tatters. And he has never been weaker," said the former Maldivian President who has been living in exile in the United Kingdom since May 2016.

For democracy to be restored in the Maldives, Abdulla Yameen has to go, Nasheed asserted.

Nasheed, who was recently in Colombo for talks with members of the Maldivian opposition, said the discussions had focused on lawful options for removing President Yameen from power.

He said the Maldives United Opposition was calling for Yameen's removal by all legal and constitutional means, which could include impeachment by Parliament or his arrest through a court warrant.

In a further parallel with the common alliance that was forged to unseat Rajapaksa in Sri Lanka in 2014, Nasheed said an interim Government in the Maldives would be a unity government with a specific mandate for reform.

"An interim government would focus on governance issues – reform and independent institutions – instead of development and infrastructure," Nasheed said. He said among the decisions to be made after a transfer of power to an interim administration would be if the Maldives would continue with the presidential system or revert to a parliamentary model, which he said may function better.